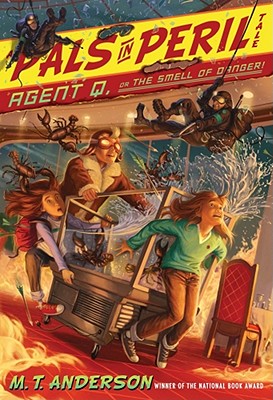 Agent Q, or the Smell of Danger! (Hardcover)
Beach Lane Books, 9781416986409, 304pp.
Publication Date: October 19, 2010
Description
It's time for Lily, Katie, and Jasper to head home from their exciting Delaware adventure, but the Awful Autarch's spies and goons are everywhere, and it's clear that *they* have other plans for our three intrepid heroes. Chock full of ups, downs, twists, turns, and even a band of sentient lobsters fighting on the side of Good, this fourth installment of the Pals in Peril series is every bit as wild, wacky, and wonderfully outrageous as the first three.
Praise For Agent Q, or the Smell of Danger!…
* "In Anderson's droll send-up of the spy genre...among the energetic chase sequences, diverting authorial interjections, and appropriately quirky illustrations is a quiet message about the importance of home, however "normal" it may be."--Booklist, starred review



"Anderson turns his characteristic witty parody toward the spy genre and teen angst in this entry. From sentient lobsters to ironic monks, there are quirks here aplenty, and they're worthy successors to the weird elements of the previous titles..the voice will likely keep readers entertained; when the adventure gets going, it is indeed rollicking, and it matches its predecessors in both breathless pacing and general silliness. Snarky authorial asides complete the picture, and the requisite happy ending will no doubt please readers familiar with the series."--The Bulletin of the Center for Children's Books



"A humorous dystopia with funny black-and-white illustrations."
--School Library Journal, August 2011
Advertisement