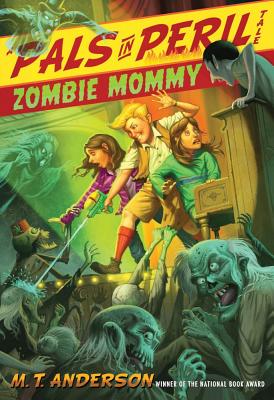 Zombie Mommy (Hardcover)
Beach Lane Books, 9781416986416, 220pp.
Publication Date: October 25, 2011
Description
Our intrepid heroes are home from their Delaware crime-stopping excitement, only to discover that Lily's mom has become possessed by a menacing zombie who wants to take over the world (Or, at least, the world of stage and screen.) Thank goodness Lily's friends Katie, Jasper, and foxy Blue-Hen-State monk Drgnan Pghlik are around--accompanied by Jasper's Astounding High-Pressure Holy Water Extruder Gun, of course--to help save the day. But not before some truly scary things happen, things involving stuff like killer tarantulas, web-footed teen vampire boys, bad weather (it's a horror novel, remember?), and, well, I can't really go on. It's TOO TERRIFYING FOR WORDS.
Praise For Zombie Mommy…
"The latest in Anderson's madcap pastiche series takes on the undead of upstate New York.... The layers of nonsense grow ever thicker and funnier as our heroes encounter a haunted theater that advertises "comical skits...Ha! Ha! Ha!", a ghost actress from French-occupied Russia (or was that Russia-occupied France?) and a giant Adirondack tarantula. Ridiculous in all the best ways."
--Kirkus Reviews, September 15, 2011



"This fifth book in Anderson's good-humored satirical series gives new life—er, death?—to the paranormal horror novel and emphasizes the importance of reading comprehension if one is to avoid becoming a flesh-eating ghoul.… Kurt Cyrus's black-and-white illustrations aptly combine the hair-raising with the tongue-in-cheek; e.g., zombies in matching "I'm with Stupid" T-shirts."
--The Horn Book, November/December 2011



"Anderson tucks in an oversize spider, a squirt gun that shoots holy water, and even a touch of romance, while Cyrus adds spooky illustrations to another action-packed episode in the Pals in Peril series."
--Booklist, October 15, 2011



"This kind of fresh new addition to the series--not to mention its many laugh-out-loud moments throughout--is the reason kids will want to keep checking in with Lily, Jasper and Katie to see what fresh brand of horror and hilarity they'll stumble upon next."
--Kidsreads.com
Advertisement