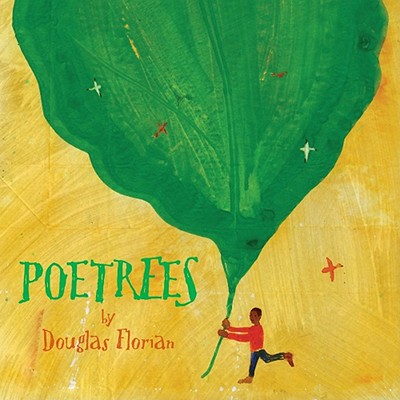 Poetrees (Hardcover)
Beach Lane Books, 9781416986720, 48pp.
Publication Date: March 9, 2010
Description
Seeds are sprouting, roots are spreading, and branches are swaying in this tree-mendous poetry collection. From coconut palms and bristlecone pines to baobabs and banyans, Douglas Florian explores the arboreal world with his signature wit and whimsy. Featuring a dynamic vertical format that illustrates the incredible heights and shapes of the trees, this book illuminates the natural history of these majestic beings as well as their unique and quirky characteristics.
Praise For Poetrees…
"Starting with the book's title and ending with a final "glossatree," the wordplay in Florian's latest poetry
collection provides plenty of fun...The final fascinating notes on each tree, and on leaves, stems, and roots, spell out the call for conservation that is part of the poetry and pictures. — Booklist



"Trees recieve a witty and informative rhyming appreciation...the poems live up to his usual high standard...Readers and listeners will learn and laugh."--Kirkus Reviews



"Florian's richly watercolored collages, accompanied by verse, evoke a whole forest of trees. Sometimes it takes just a handful of words. "From the acorn grows the tree - slowly, slowly," he writes, as an oak fills a two-page spread, stained onto paper."--New York Times Book Review
Advertisement