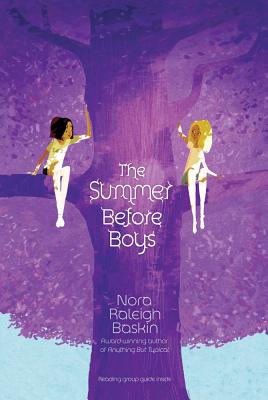 The Summer Before Boys
Paperback

* Individual store prices may vary.
Other Editions of This Title:
Hardcover (5/10/2011)
Description
"Vivid and moving. I loved it." —Rebecca Stead, Newbery-winning author of When You Reach Me

Julia and Eliza are best friends, so when Julia's mom is sent to serve in Iraq, it makes perfect sense for her to spend the summer with Eliza and her parents. Any other time, Julia would be thrilled to be there. But on top of worrying about her mom, Julia develops her first real crush. The gap between Julia and Eliza keeps widening—until Eliza does something drastic to win back her best friend.

In her follow-up to the award-winning Anything But Typical, Nora Baskin Raleigh has written a powerful, touching story about friendship, first love, and how the people who are farthest away from us are sometimes the ones we need the most.
Praise For The Summer Before Boys…
"A vivid and moving story about traveling the road between childhood and what comes next. I loved it."
--Rebecca Stead, Newbery Medal-winning author of WHEN YOU REACH ME



"Perfectly captures the way a girl's life can be suspended between the last days of childhood and the glimmerings of her first crush. The Summer Before Boys is a novel of great depth and tenderness."
--Frances O'Roark Dowell, award-winning author of THE SECRET LANGUAGE OF GIRLS



"An extraordinary novel explores the challenges faced by children whose parents have gone off to war.
. . . Baskin adeptly portrays Julia's ambivalence and anxiety in this thoughtful tale that artfully brings the war to the homefront." - KIRKUS, April 15, 2011, *STAR



"Baskin perfectly captures friendship among girls on the edge of puberty, especially the way big dramas work out in small moments. . . . A poignant story of children on the homefront and the ways that a first love can break up longtime friendships and change things forever."
--Booklist, March 1, 2011



"Baskin covers this emotional territory with respect and honesty, allowing readers to see themselves in these complicated, yet likable, girls."
--The Horn Book Magazine



It is a rare story for kids of this age that treats such matters with straight-forwardness and without mushy and ridiculously high hormonal responses. This is not Twilight; it's a gentle story about two long-time friends and how they figure out who they are when one of them starts to see boys in a new light. There is a big adventure at the end, which ends up better than you would have thought when it started. There is no salacious gossipy junk to muddle up the story. Instead, Baskin writes real-life characters that kids will relate to, especially girls, and gives them a story they will take to heart because most readers will know that this is going to happen to them (or perhaps already has). It's a nice story about a normal part of the growing-up process, and readers and parents will appreciate Baskin's gentle but pointed storytelling techniques.
THE SUMMER BEFORE BOYS is highly recommended for a tween's bookshelf --- right alongside all those books about your changing body and relationships. There is no AAA map to guide one through the craziness of puberty, but books such as these and protagonists like Julia and Eliza will surely cast some helpful glow on the proceedings.
--- Reviewed by Jana Siciliano
Simon & Schuster Books for Young Readers, 9781416986744, 208pp.
Publication Date: April 3, 2012
About the Author
Nora Raleigh Baskin is the ALA Schneider Family Book Award–winning author of Anything But Typical. She was chosen as a Publishers Weekly Flying Start for her novel What Every Girl (Except Me) Knows, and has since written a number of novels for middle graders and teens, including The Truth About My Bat Mitzvah, The Summer Before Boys, and Ruby on the Outside. Nora lives with her family in Connecticut. Visit her at NoraBaskin.com.