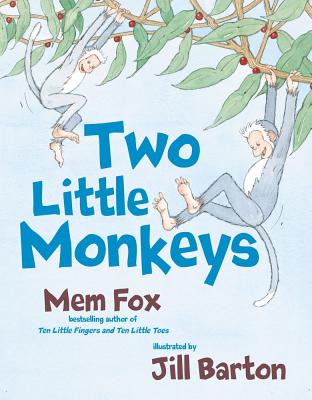 Two Little Monkeys (Hardcover)
Beach Lane Books, 9781416986874, 32pp.
Publication Date: May 1, 2012
Description
These monkeys are on the move A playful, rhyming picture book from an award-winning team. Two little monkeys playing near a tree,
One named Cheeky, and one named Chee.
Look out, Cheeky Look out, Chee
Someone's prowling--who could it be?
Can two clever monkeys outwit a hungry creature who's on the prowl for a tasty lunch? And just who is this hungry prowler? From bestselling picture book giants Mem Fox and Jill Barton, here is a sweet, surprise-filled story that's sure to have little ones everywhere leaping with delight
About the Author
Mem Fox is the author of many acclaimed books, including Let's Count Goats!, Hello Baby!, and the New York Times bestselling Ten Little Fingers and Ten Little Toes. She lives in Adelaide, Australia. Visit her at MemFox.net. Jill Barton has illustrated numerous celebrated books, including the Baby Duck series by Amy Hest, The Pig in the Pond by Martin Waddell, and Rattletrap Car by Phyllis Root. She lives in Devon, England.
Praise For Two Little Monkeys…
"Mem Fox has produced another story in rhyme that will encourage language development among even the youngest of readers…. The repetition of certain words and phrases contributes to the accessibility of this story, and young children will chime in…. Barton's art captures mischievous grins on the little monkeys, which gives them an anthropomorphic presence. This jaunty adventure must be added to the Fox bibliography."

—Library Media Connection, Recommended

* "Irresistible rhythm, adorable monkeys and pitch-perfect rhyme make this a must-have for the preschool set…. Barton's soft watercolors, in purple, gray and tan, are both captivating and comforting—never will readers actually fear for Cheeky and Chee's safety…ideal for frequent rereading. The easy rhythm and rhyme will allow lap listeners to chant along while they memorize this one. Look for little humans to add this to their play repertoire."


—Kirkus Reviews, March 15, 2012 *STAR

"This simple, rhythmic book from the creator of the beloved Ten Little Fingers and Ten Little Toes (2008) tells a brief tale about monkey buddies Cheeky and Chee, who must escape from a lurking leopard by climbing into a tree…. Soft watercolors show the young monkeys in their leafy environment, with facial expressions and positioning just like those of young kids playing hide-and-seek. With just enough danger to create drama, this isn't too scary and the resolution is cheery: Cheeky and Chee at last relax among the branches, eating fruit from the sheltering tree."


—Booklist, March 15, 2012

"Aping the format of the classic nursery rhyme "Two Little Dickie Birds," Fox's variation features two small monkeys "playing near a tree,/ one named Cheeky,/ one named Chee."… The repetition, lively meter, and ample drama in Fox's (Let's Count Goats!) verse will easily keep young readers' attention at storytime. Barton's (The Ring Went Zing!) grey long-limbed monkeys have a decidedly toddlerlike resemblance, their faces readily transmitting their glee and fear at various points in the story…readers will still have a good sense of what's at stake in this bit of animal-kingdom drama."


—Publishers Weekly, March 12, 2012

"Fox's peppy rhyming text propels the story forward; similarly, Barton's watercolor compositions draw the eye across spreads, keeping pace with the narrative's infectious energy. The monkeys' expressions anticipate viewers' responses to the drama, which has just the right amount of tension for preschoolers. Expect to see lots of Cheekys and Chees monkeying around after story hour."


—Horn Book Magazine, July/August 2012

"This playful picture book told in rhyme invites youngsters to explore language through repetition and active sight clues…. The crisp, succinct text is carefully crafted with a few lines on each page, making it perfect for young audiences with short attention spans. The fresh watercolors predominantly done in light blues, greens, oranges, and browns provide the feel of the savanna on a hot day. The facial expressions on the monkeys radiate happiness through their eyes and mouths, or fear as they hold each other close in the treetop camouflaged from the scary jaguar. Tailor-made for one-on-one reading and group sharing."


—School Library Journal, June 2012

"In this lilting rhyming story, playful monkeys Cheeky and Chee hear something prowling in the tall grass and eventually decide to take cover in the "big old tree" nearby…. The meter of the short lines is catchy, and the simian antics will appeal to youngsters… touches of humor, such as a monkey covering his own eyes to "hide" from the leopard, add cuddly charm. Listeners may appreciate the playful mood of these two little monkeys, and they'll certainly celebrate a safe escape and a tasty snack."
Advertisement