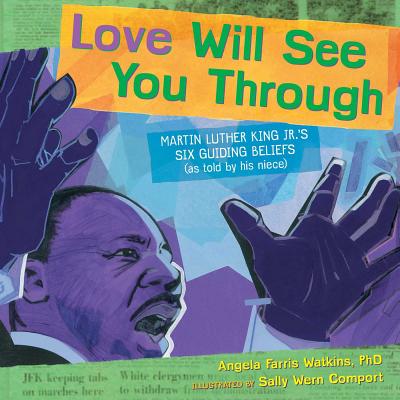 Love Will See You Through (Hardcover)
Martin Luther King Jr.'s Six Guiding Beliefs (as told by his niece)
Simon & Schuster Books for Young Readers, 9781416986935, 32pp.
Publication Date: December 30, 2014
* Individual store prices may vary.
Description
The niece of Martin Luther King, Jr. reveals six timeless and universal principles that encompass the civil rights leader's greatest legacy: Love will see you through.

Growing up as the niece of Martin Luther King Jr., Angela Farris Watkins witnessed firsthand the principles and values that "Uncle M.L." practiced and lived by throughout his fight for equality. Drawing from experiences and episodes both personal and well-known, Dr. Watkins artfully details the guiding beliefs of one of the greatest men in history. Including "have courage" and "love your enemies," these six hallmarks of virtue and nonviolence reinforce the truth that "the universe honors love" and will inspire readers of all ages.
About the Author
Angela Farris Watkins, PhD, is the niece of Martin Luther King Jr. She is an associate professor of psychology at Spelman College in Atlanta, Georgia. Dr. Watkins is a certified trainer of Kingian Nonviolence, the principles and steps of social change espoused by her uncle. Her books for children include Love Will See You Through: Martin Luther King Jr.'s Six Guiding Beliefs; My Uncle Martin's Words for America; and My Uncle Martin's Big Heart.

Sally Wern Comport has illustrated numerous picture books and novels, including Love Will See You Through: Martin Luther King Jr.'s Six Guiding Beliefs; Brave Margaret: An Irish Adventure; Hanging Off Jefferson's Nose: Growing Up on Mt. Rushmore; and the Spy Mice series. She has also translated her picture making skills to various large scale public, private, and institutional artworks. Sally lives with her husband and two daughters in Annapolis, Maryland, where she operates Art at Large Inc. Learn more at ArtAtLargeInc.com.
Praise For Love Will See You Through: Martin Luther King Jr.'s Six Guiding Beliefs (as told by his niece)…
"The bold, colorful mixed-media illustrations capture the emotion of the situations described, and Watkins's writing style is conversational but impassioned."

"Watkins again uses events in King's life...to illustrate his dedication to acting on his convictions. Comport (Hanging Off Jefferson's Nose) features intense shades of orange, fuchsia, and purple in her energetic mixed-media art, which incorporates imposing display type and occasional newspaper excerpts illuminating the turbulence of the time. Especially striking are her conspicuous portraits of hands: raised in protest, folded in prayer, and linked in solidarity."

"The picture-book format features compelling, expressive artwork. King's guiding beliefs spill across the pages in bold, oversize font, accompanied by detailed illustrations in rich, somber hues."