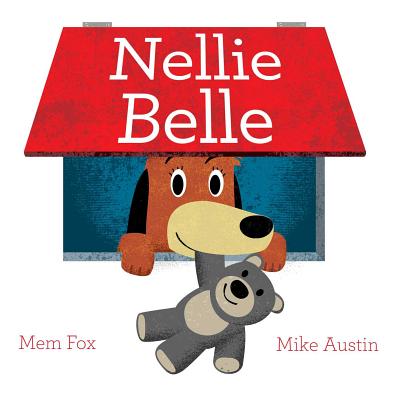 Nellie Belle (Hardcover)
Beach Lane Books, 9781416990055, 32pp.
Publication Date: December 8, 2015
* Individual store prices may vary.
Description
Meet Nellie Belle, a loveable pup who has fun, fun, fun everywhere she goes in this picture book from the author of Baby Bedtime and Yoo-Hoo, Ladybug!

On the beach, in the yard, even in the park in the dark—Nellie Belle always has fun. But what's the most fun of all? Why snuggling in bed with her best friend Ted, of course!

With terrific rhyme, sweet characters, and a cozy ending, this picture book from Mem Fox is just right for reading aloud to little ones. And illustrator Mike Austin's darling dog makes it especially irresistible!
About the Author
Mem Fox is an educator and international literacy expert, and her many acclaimed picture books for young children include Yoo-Hoo, Ladybug!; Hello Baby!; Baby Bedtime; I'm an Immigrant Too; the bestselling modern classics Ten Little Fingers and Ten Little Toes and Time for Bed; and, for adults, Reading Magic: Why Reading Aloud to Our Children Will Change Their Lives Forever. She lives in Adelaide, Australia. Visit her at MemFox.net.

Mike Austin is the author-illustrator of Fire Engine No. 9, Monsters Love Colors, and Junkyard. He lives with his wife, artist Jing Jing Tsong, and their two children in Langley, Washington.
Praise For Nellie Belle…
Fox(Baby Bedtime) supplies the sweetly cadenced rhymes and Austin (Fire Engine No.9) the visual comedy as they follow an eager brown dog from home to the beachand back. After digging in the backyard and running into a baker, guitarist,and a few children on the street, Nellie Belle tussles with seagulls and a crabbefore playing in the water with a seal: "Is it fun in the sea, Nellie Belle,Nellie Belle?/ Is it fun in the sea, Nellie Belle?/ Swimming fast and swimmingfree,/ in the sea, in the sea—/ is it fun in the sea, Nellie Belle?" Austin,working digitally, uses overlapping shapes and marblelike textures to create acheerful seaside town for Nellie Belle; a run-in with some possums in a darkcorner of a park sends the dog scooting back home to snuggle up with the teddybear she left behind in the yard. It's an energetic, romping story from startto finish, yet counterbalanced by the soothing repetitions and rhythms of Fox'sverse.
— Publishers Weekly

Nellie Belle is a bright-eyed hound dog who escapes her fenced yard and explores the scenery around town. After a scare in thepark, she decides home is best and goes back to snuggle up with her teddy bear.The story starts in Nellie's backyard, as she gazes through a hole in the fence. "Is it fun in the yard, Nellie Belle, Nellie Belle? Is it fun in the yard, Nellie Belle?" The page turn shows Nellie digging under the fence and peering back through the same hole: "Digging earth that's very hard, in the yard,in the yard—is it fun in the yard, Nellie Belle?" For every place that Nellie discovers, the text follows the same pattern, asking if it's fun in the street,on the beach, in the sea, and in the park. Nellie looks like she's having fun everywhere—until she gets to the park. Suddenly the bright colors are gone and the pages are filled with dark purple and green foliage with eyes staring out from the dark. Here the pattern breaks as Nellie finally answers, "NO!" and turns tail to run home. The cheery digital illustrations add a lot of humor and use recurring details to guide readers from page to page. VERDICT Finding the right tune or rhythm for this book will be the key to read-aloud success, but those who are able to make it work will enjoy it for story time or one-on-one reading.Anna Haase Krueger, Ramsey County Library, MN
— School Library Journal

In her new book, veteran author Fox (Ten Little Fingers and Ten Little Toes, 2008) tells the story of a

long-eared puppy who wanders far from home before realizing there's no place like it. The tale is told in

repeating rhymes and questions that give it a jaunty air and will help young readers with word recognition.

The canine hero, Nellie Belle, is first seen in a flower-filled yard, peering through a hole in the fence that

reveals a lighthouse off in the distance. Austin's (Fire Engine No. 9, 2015) digital illustrations are as bright

and lively as Nellie Belle, and he uses several panels to show the dog digging her way out of the yard.

Ever curious, she moves from street to beach to the sea, joyfully greeting passersby, seagulls, and a seal.

When the pup comes back from swimming to investigate a dark and scary park, she hightails it to her

doggie bed, making for a very cozy end to her far-flung adventure.
— Booklist