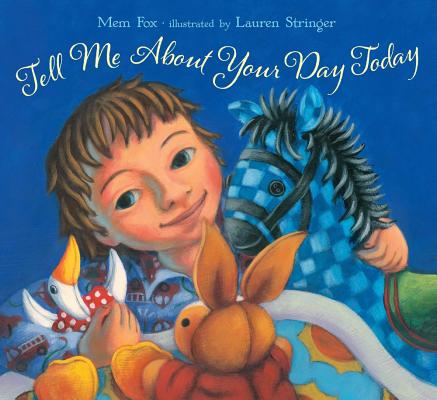 Tell Me About Your Day Today
Hardcover

* Individual store prices may vary.
Description
A boy and his favorite stuffed animals share their days with one another in this cozy bedtime picture book from Mem Fox.

There was once a boy who loved bedtime.
What could be more wonderful than sharing bedtime with beloved friends? The little boy in this gentle and fun story loves to talk to his stuffed animals each evening and share with them all the things that happened to him that day—and to hear about their days, too.
From bestselling author Mem Fox and award-winning illustrator Lauren Stinger, here is a celebration of imagination, play, friendship, and coziness certain to touch a chord with young children everywhere.
Praise For Tell Me About Your Day Today…
* "There once was a boy who loved bedtime," writes Fox (Two Little Monkeys), and within a few pages, it's clear why: when Mommy gives "the last good night" and departs, the boy gets to snuggle up with his beloved toys to discuss their respective days…as much as this book is about being the center of the universe, it's also about letting others hold the stage. A good friend, the final contented huddle tells readers, is also a good listener."

—Publishers Weekly, July 16, 2012, *STAR

"A little boy loves to cuddle and chat with his stuffed-animal friends at bedtime…. The specifics are told wordlessly and in great detail in Stringer's bright acrylic illustrations with just the right softly fuzzy surroundings. From Goose's encounter with a pink umbrella to Horse's deployment as an emergency picnic site (a blanket thrown over his back makes his rockers a fine tent) to Rabbit's clothespin-pinched bottom, these adventures are charming and easy for little readers to follow…. Fox's use of rhyme and repetition has a flowing cadence that moves briskly along while allowing time to savor the details of the innocent delight of a small child's imagination.
A lovely, gentle story for bedtime sharing."

—Kirkus Reviews, August 1, 2012

"Learning we are not alone in our foibles—and fears—is part of what comforts us, at every age, about good stories. To the rescue (once again) comes the Australian author Mem Fox (author of "Time for Bed" and the charming "Ten Little Fingers and Ten Little Toes"). Here she freshens the sheets, as it were, with "Tell Me About Your Day Today," featuring a happy boy in fireman pajamas who helpfully loves the routine clarity of bedtime, "the last kiss," "the last story," the "last good night.""
— The New York Times Book Review, August 2012

"A boy loves all the nightly rituals of bedtime, but mostly he loves, after the last good night, sharing the story of the day with his stuffed animal friends Greedy Goose, Blue Horse, and Fat Rabbit…. While the rhythmic and snappy text sets up the action, it's really the art that tells the story. Rich spreads done in acrylics stay grounded in the present, but readers piece the story of the day together through the pictures. Each animal's perspective provides more clues until the boy's own version brings it all together. This warm, bedtime read celebrates the comforts of sharing a story together and a day well spent."

—School Library Journal, September 2012

"The succinct, precisely worded text reads aloud beautifully, while the illustrations recreate the cozy bedroom and remembered adventures in remarkably varied acrylic paintings that feature rounded forms and rich, warm colors. Best of all, the words and pictures leave room for children to engage imaginatively and verbally with the book by interpreting the visual narrative in their own words. An endearing bedtime choice."
— Booklist, November 1, 2012
Beach Lane Books, 9781416990062, 40pp.
Publication Date: September 4, 2012
About the Author
Mem Fox is an educator and international literacy expert, and her many acclaimed picture books for young children include Yoo-Hoo, Ladybug!; Hello Baby!; Baby Bedtime; I'm an Immigrant Too; the bestselling modern classics Ten Little Fingers and Ten Little Toes and Time for Bed; and, for adults, Reading Magic: Why Reading Aloud to Our Children Will Change Their Lives Forever. She lives in Adelaide, Australia. Visit her at MemFox.com.

Lauren Stringer has illustrated many celebrated picture books, including Deer Dancer by Mary Lyn Ray; The Princess and Her Panther by Wendy Orr; Scarecrow and Snow, both written by Cynthia Rylant; as well as her own Winter Is the Warmest Season, When Stravinsky Met Nijinsky, and Dark Was Done. She lives with her family in Minneapolis, Minnesota. Visit her at LaurenStringer.com.