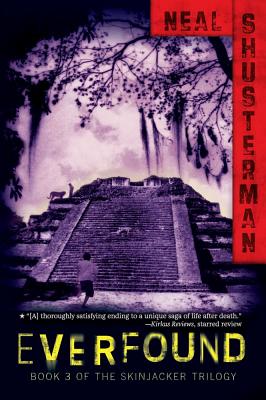 Everfound (Paperback)
Simon & Schuster Books for Young Readers, 9781416990505, 500pp.
Publication Date: May 1, 2012
Description
Witness the final battle for the souls of Everlost in a "compellingly readable and a worthy finale to the Skinjacker trilogy" (VOYA). While Mary lies in a glass coffin aboard a ghost train heading west, her minions are awaiting her re-awakening by bringing lots of new souls into Everlost to serve her. Meanwhile Jackin' Jill has met Jix, a furjacker--a skinjacker who can take over the bodies of animals, most notably jaguars. Jix serves a Mayan god who collects Everlost coins to use in his Wurlitzer, which predicts the future. In the concluding volume of The Skinjacker Trilogy, Neal Shusterman reveals new sides of the characters of Everlost, who are pitted against each other in a battle that may destroy all life on Earth.
About the Author
Neal Shusterman is the author of many novels for young adults, including The Skinjacker Trilogy; Unwind, which was an ALA Best Book for Young Adults and a Quick Pick for Reluctant Young Readers; and Downsiders, which was nominated for twelve state reading awards. He also writes screenplays for motion pictures and television shows such as Animorphs and Goosebumps. The father of four children, Neal lives in southern California. Visit him at StoryMan.com.
Advertisement