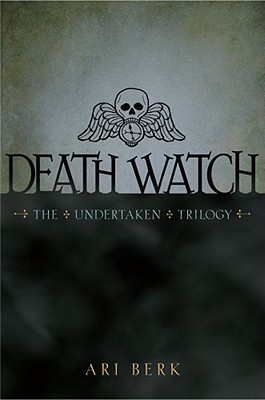 Death Watch (Undertaken Trilogy #1) (Hardcover)
Simon & Schuster Books for Young Readers, 9781416991151, 544pp.
Publication Date: November 15, 2011
* Individual store prices may vary.
Description
They say the dead should rest in peace. Not all the dead agree. One night, Silas Umber's father Amos doesn't come home from work. Devastated, Silas learns that his father was no mere mortician but an Undertaker, charged with bringing The Peace to the dead trapped in the Shadowlands, the states of limbo binding spirits to earth. With Amos gone, Silas and his mother have no choice but to return to Lichport, the crumbling seaside town where Silas was born, and move in with Amos's brother, Charles. Even as Silas eagerly explores his father's town and its many abandoned streets and overgrown cemeteries, he grows increasingly wary of his uncle. There is something not quite right going on in Charles Umber's ornate, museum-like house--something, Silas is sure, that is connected to his father's disappearance. When Silas's search leads him to his father's old office, he comes across a powerful artifact: the Death Watch, a four hundred year old Hadean clock that allows the owner to see the dead. Death Watch in hand, Silas begins to unearth Lichport's secret history--and discovers that he has taken on his father's mantle as Lichport's Undertaker. Now, Silas must embark on a dangerous path into the Shadowlands to embrace his destiny and discover the truth about his father--no matter the cost.
Praise For Death Watch (Undertaken Trilogy #1)…
"Ari Berk writes deftly about loss and love, mining a rich vein of ghostly folklore with vivid prose, style and wit. A marvelous tapestry of a book."—Holly Black, New York Times bestselling author



"This truly gothic novel is imbued with hauntingly beautiful prose and vividly drawn characters set in a town just as intriguing as its inhabitants. Death Watch will linger with you long after you lay it to rest."–Tony DiTerlizzi, New York Times bestselling author of The Search for WondLa



"Berk's writing style and language are reminiscent of the classic gothic works of Nathaniel Hawthorne and Shirley Jackson. The plot and pacing have a haunting, dreamlike quality–the type of dream that morphs into nightmares that jolt sleepers awake with a pounding heart and shaking hands. Readers who enjoyed Melissa Marr's Graveminder should find this book intriguing."--School Library Journal



" [A] thought-provoking gothic fantasy...a leisurely, digressive, yet genuinely eerie tale...Berk's setting is atmospheric and creepy, fleshed out with a wealth of funereal traditions and folklore..an intriguing opener."--Publishers Weekly



"Berk's novel is a labor of love, focusing on his interest in folklore, ghost lore, and the customs surrounding the dead...a rich and complex book...in the hands of the right reader, it will be savored."--VOYA



"Those who like complexity in their scary tales will find their patience rewarded by the satisfying conclusion."--BCCB



"Ari Berk's compelling prose draws aside death's veil revealing a macabre, visceral, and utterly believable folkloric world. Eerie and poignant, Death Watch is at once chilling and full of heart."
-- Brom, artist/author of the Chesley award-winning novel The Plucker.



"Every now and then a book comes along that breaks the mold of everything that has gone before. Death Watch is such a book. At once a profound and moving meditation on death, and an extraordinary edge-of-the-seat adventure, it is one of the most original and powerful novels I have read in my lifetime." — John Matthews, New York Times bestselling author of Pirates and Arthur of Albion