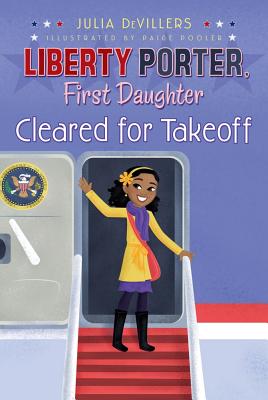 Cleared for Takeoff (Liberty Porter #3) (Paperback)
Aladdin Paperbacks, 9781416991311, 210pp.
Publication Date: June 5, 2012
* Individual store prices may vary.
Description
Liberty Porter, First Daughter is taking her White House antics overseas When your father is the President of the United States, and you've taken your own oath to represent the kids of America...well, that's a lot of responsibility for one girl. Luckily, Liberty Porter is up to the job There's no problem too big or too small that can't be solved with a visit to the White House chocolate shop and the help of your own Secret Agent Man.
Now Liberty is boarding Air Force One and taking her message to the world: She's going with her parents to Tbilisi, Georgia. But don't tell Liberty--she can't keep a secret
And what if Liberty accidentally causes a diplomatic disaster? Could her father's first overseas trip end up being an international scandal? When Liberty is around, you can only count on one thing: fun.
About the Author
Julia DeVillers's books include How My Private Personal Journal Became a Bestseller, which was adapted to a Disney Channel original movie, Read It and Weep. Her other books include Princess of Gossip (with Cheetah Girl Sabrina Bryan), Girlwise: How to Be Confident, Capable, Cool and in Control and the Trading Faces books, which she writes with her identical twin sister Jennifer Roy. She lives in New Albany, Ohio. Paige Pooler lives in Los Angeles with her First Dog, Mitzi the Boston terrier.