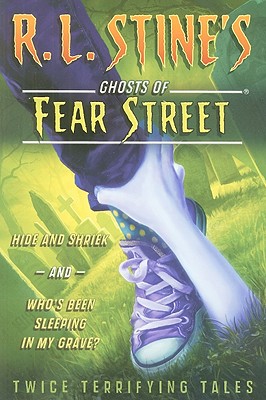 Hide and Shriek and Who's Been Sleeping in My Grave?
Twice Terrifying Tales (R.L. Stine's Ghosts of Fear Street)
Paperback

* Individual store prices may vary.
Description
Do you believe in ghosts? Don't say no until you take a walk down Fear Street. Past the woods - where no birds sing. Past the lake - where something lurks beneath the water. Past the cemetery - where everyone is dying to meet you.

In Hide and Shriek, Randy Clay has been invited to an annual tradition of playing hide-and-seek in the Fear Street woods - with a ghost. But if the ghost tags her, Randy will lose more than a game. She'll become the next ghost on Fear Street.

At Shadyside Middle School, Zack Pepper thinks there is something very wrong with his substitute teacher. In Who's Been Sleeping in My Grave? Zack is determined to discover the truth. But will his investigating prove to be a deadly mistake?
Aladdin, 9781416991342, 256pp.
Publication Date: August 25, 2009
About the Author
R.L. Stine invented the teen horror genre with Fear Street, the bestselling teen horror series of all time. He also changed the face of children's publishing with the mega-successful Goosebumps series, which went on to become a worldwide multimedia phenomenon. Guinness World Records cites Stine as the most prolific author of children's horror fiction novels. He lives in New York City with his wife, Jane, and their dog, Nadine.