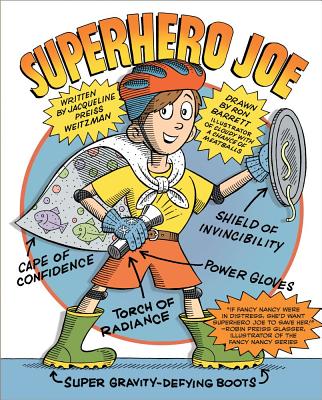 Superhero Joe
Hardcover

* Individual store prices may vary.
Description
One day while playing in his room, Joe hears a cry for help from his parents downstairs. In an instant he's Superhero Joe and it's up to him to save the day!
Praise For Superhero Joe…
"If Fancy Nancy were in distress (that's a fancy word for trouble) she'd want Superhero Joe to save her." Robin Preiss Glasser, illustrator of FANCY NANCY

Superhero Joe

Joe "used to be scared of everything." At night, his bedroom closet seems to overflow with menacing items, including ravenous-looking gym shoes and a cobralike belt. But then he realizes that clothes could make the man and creates a superhero outfit to give himself courage. Attired in a "Cape of Confidence" (a bath towel), a "Torch od Radiance" (a flashlight), a bike helmet, and other accoutrements of invincibility, even the spooky basement doesn't faze him--he retrieves a mop for his mother and saves the kitchen floor from motor oil peril. Barrett's (Cloudy with a Chance of Meatballs) terrific pictures, with their crisp outlines, yellow-orange hues, dramatic lighting, and cross-hatching, hearken back to the comic book art of the 1950s; Joe goes from a 67-lb. weakling to a dynamo capable of wide-legged poses worth of any action figure.... -- PUBLISHERS WEEKLY, July 2011

Superhero Joe.
Weitzman, Jacqueline (author). Illustrated by Ron Barrett.
Sept. 2011. 32p. Simon & Schuster/Paula Wiseman, hardcover, $16.99 (9781416991571). K-Grade 2.
REVIEW. First published September 15, 2011 (Booklist).
Weitzman, ably assisted by Barrett, of Cloudy with a Chance of Meatballs (1978) fame, takes on both imagination and bravery in this warmhearted comic-book-style offering. It starts as all good superhero tales do, with someone shouting "HELP!" Joe scrambles into the kitchen to find that Dad has been attacked by "an evil black ooze" (engine oil), and Mom needs "the staff of power" (the mop) to rescue him. The problem: the mop's in the monster-filled cellar. The solution: Superhero Joe! In an aside, Joe explains that he used to be scared of everything. But, taking a page from comic books, he found that clothes make the man, in this case his Cape of Confidence (a bath towel), Shield of Invincibility (trash-can lid), and Torch of Radiance (flashlight). Weitzman keeps things hurtling forward, while Barrett's digitally created panels supply the primary colors and constant motion, most enjoyably when everyday objects (shirts in a dark closet, for example) take on monstrous qualities. Perfect for junior crusaders everywhere.— Daniel Kraus


Simon & Schuster/Paula Wiseman Books, 9781416991571, 32pp.
Publication Date: September 6, 2011
About the Author
Jacqueline Preiss Weitzman is the author of You Can't Take a Balloon Into the Metropolitan Museum, illustrated by her sister, #1 New York Times bestselling artist Robin Preiss Glasser. Weitzman graduated from Vassar College where she majored in Art History. She has contributed to several New York Times bestselling books for children. She lives with her family in New York State.

Ron Barrett is the internationally bestselling illustrator of many books for children, including Cloudy With a Chance of Meatballs, Pickles to Pittsburgh, Superhero Joe, Animals Should Definitely Not Wear Clothing, Lots More Animals Should Definitely Not Wear Clothing, and An Excessive Alphabet. His illustrations have been honored by the Society of Illustrators and have been exhibited at The Louvre in Paris. He lives in New York City.
or
Not Currently Available for Direct Purchase