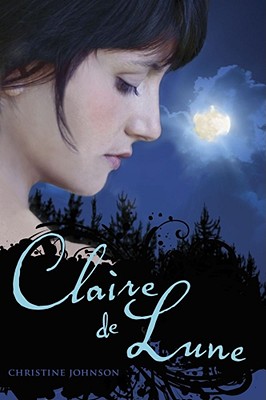 Claire de Lune
Hardcover

* Individual store prices may vary.
Other Editions of This Title:
Paperback (7/26/2011)
Description
Torn between two destinies…

Claire is having the perfect sixteenth birthday. Her pool party is a big success, and gorgeous Matthew keeps chatting and flirting with her as if she's the only girl there. But that night, she discovers something that takes away all sense of normalcy: she's a werewolf.

As Claire is initiated into the pack of female werewolves, she must deal not only with her changing identity, but also with a rogue werewolf who is putting everyone she knows in danger. Claire's new life threatens her blossoming romance with Matthew, whose father is leading the werewolf hunt. Now burdened with a dark secret and pushing the boundaries of forbidden love, Claire is struggling to feel comfortable in either skin. With her lupine loyalty at odds with her human heart, she will make a choice that will change her forever….
Praise For Claire de Lune…
Johnson weaves a page-turning tale of forbidden love, loyalty, friendship, and deception that will leave readers eager for more. Strong characters and major plot twists coupled with a new twist on werewolf mythology make this a fun and entertaining read that will satisfy fans of the genre. -- Donna Rosenblum, SCHOOL LIBRARY JOURNAL, April 2010

Johnson's debut—her take on the popular werewolf lit genre—glimmers with mystery and a budding romance amid Romeo and Juliet–like complications. Claire is finally starting to feel like a normal teenager. It's her 16th birthday, popular kids have shown up at her pool party, and wicked cute Matthew seems to like her. Then Claire discovers the family secret—she and her mother are werewolves. It's an especially inopportune revelation, since a rogue werewolf is killing people in town and Matthew's father, a member of the Federal Human Protection Agency, is leading the charge to capture and "cure" lycanthropes. Claire's feelings for Matthew are too strong for her to obey her mother's order to stop seeing him, and her secrets keep piling up as her full transformation approaches. With Claire's local pack on the hunt for the rogue and an innocent werewolf in danger, things accelerate quickly as the next full moon approaches. Claire's supportive relationship with Matthew is downright enviable, and her struggle to adjust and integrate the two sides of her life rounds out a satisfying story.
--PUBLISHERS WEEKLY, April 26, 2010

Johnson spins out an engaging and provacative riff on the werewolf tradition...Smooth writing and engaging main characters make for an easy read, while a feminist focus offers just a bit more for thoughtful readers....A good summer read for the romantically concerned and monster-obsessed midteen girl. -- Francisca Goldsmit, BOOKLIST, May 15 2010
Simon & Schuster Books for Young Readers, 9781416991823, 352pp.
Publication Date: May 18, 2010
About the Author
Christine Johnson grew up in, moved away from, and finally came home to Indianapolis, Indiana. While she was in the "away" part of that adventure, she lived in Chicago, Illinois, where she attended DePaul University and majored in Political Science. She now lives in an old house in an old neighborhood with her kids and way too many books. Find her on the web at http://www.christinejohnsonbooks.com/ and on Twitter @cjohnsonbooks.
Book Videos
or
Not Currently Available for Direct Purchase