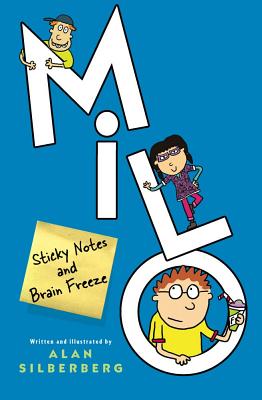 Milo: Sticky Notes and Brain Freeze (Hardcover)
Sticky Notes and Brain Freeze
Aladdin Paperbacks, 9781416994305, 275pp.
Publication Date: September 14, 2010
Description
MILO is the funny and poignant story, told through text and cartoons, of a 13-year-old boy's struggle to come to terms with the loss that hit the reset button on his life. Loveable geek Milo Cruikshank finds reasons for frustration at every turn, like people who carve Halloween pumpkins way too soon (the pumpkins just rot and get lopsided) or the fact that the girl of his dreams, Summer, barely acknowledges his existence while next-door neighbor Hilary won't leave him alone. The truth is - ever since Milo's mother died nothing has gone right. Now, instead of the kitchen being full of music, his whole house has been filled with Fog. Nothing's the same. Not his Dad. Not his sister. And definitely not him. In love with the girl he sneezed on the first day of school and best pals with Marshall, the "One Eyed Jack" of friends, Milo copes with being the new kid (again) as he struggles to survive a school year that is filled with reminders of what his life "used to be.
Praise For Milo: Sticky Notes and Brain Freeze…
"Alan Silberberg has written an astounding illustrated novel that deals with the loss of a parent. Milo's feelings are real and raw, and he's busy coping with trying to be in 7th grade, while sorting out needing a parent who is no longer there. Alternately hilarious and heartbreaking, readers will effortlessly be drawn to Milo and his friends and family. This is not simply a book about losing a parent…it is a pitch perfect story of being in middle school, the push/pull of need and independence, and the story of a boy."
--Welcome to my Tweendom blog
Advertisement