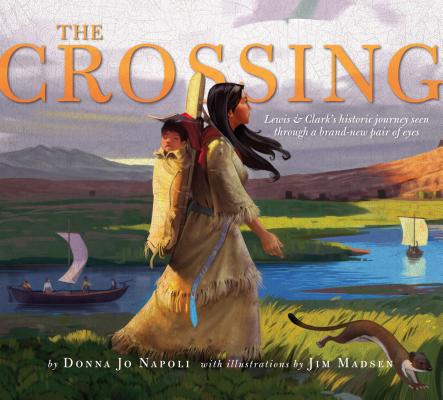 The Crossing (Hardcover)
Atheneum Books, 9781416994749, 40pp.
Publication Date: June 14, 2011
Description
This young, lyrical picture book reveals the adventure and natural wonders that Lewis & Clark encountered on their Western expedition in the early 1800s. Told from the point of view of Jean Baptiste Charbonneau, the baby on Sacagawea's back, this story offers a fresh perspective of a young country and gives voice to a character readers will already be familiar with--at least visually (the baby is shown on the golden Sacagawea dollar).
Praise For The Crossing…
"Short, poetic descriptions of the landscape and journey…close with onomatopoetic phrases that refer to the many animals they meet during the journey…digital artwork is rendered in warm, earthy hues, shot through with tiny, crackling lines that give the images an aura of old oil paintings…readily conveying the majesty and geographic biodiversity of the American west. A refreshing new angle on a familiar story of American history."

--Publishers Weekly, April 25, 2011, *STAR

"Napoli expertly gets into the mind of Sacagawea's son…a beautiful, atmospheric narrative that explores the possibilities of that momentous expedition….Madsen's glowing illustrations, created digitally, employ rich jewel tones….Children will need nonfiction sources to gain context about Lewis and Clark, but this lyrical picture book will help them understand the journey on a human level."


--School Library Journal, July 2011

"Poetic text and lush artwork tell an evocative story for children familiar with the history."


--The New York Times Book Review, July 15, 2011

"Full page, full color illustrations beautifully capture the natural landscape surrounding the travelers. Readers will enjoy hearing about this journey from a simplistic yet poetic point of view."


--Library Media Connection, November/December 2011

"Riding in a cradle board on his mother's back, Sacagawea's baby son Jean Baptiste provides a fresh perspective on Lewis and Clark's monumental westward journey.... Richly hued, realistic, digitally rendered illustrations capture the pristine grandeur of the American west and its first inhabitants. The wee narrator, Jean Baptiste, appears on his mother's back or in her arms in every double-page spread with high plains, waterfalls, mountains, forests and ocean as backdrop until he runs free in the final scene. Experience the wonder of Lewis and Clark's journey with the youngest expedition member."

- Kirkus Reviews, May 2011
Advertisement