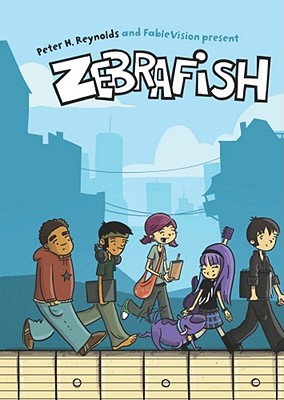 Zebrafish (Hardcover)
Atheneum Books for Young Readers, 9781416995258, 119pp.
Publication Date: May 4, 2010
Description
Vita is a purple-haired singing queen, and she has big dreams for her rock group, Zebrafish. But when she holds auditions for the back-up band, tryouts are sorely lacking in the musical ability department. Luckily her new bandmates--Walt, Tanya, Jay, and Plinko--have other talents. But lately Tanya has been missing a lot of rehearsals. When Vita discovers why, she realizes that the group can be about much more than one person, one band, or even one school. A concert won't cure Tanya's cancer or make her treatments any less painful, but, in their own way, Zebrafish can make a difference--and the tale of their unlikely success is sure to strike a chord with young readers looking to make their world a better place.
Praise For Zebrafish…
Several friends, led by the purple-haired Vita, try to figure out how to make their band work despite the


fact that no one knows how to play anything. But when Vita, whose older brother is a cancer researcher,


learns that band-member Tanya has leukemia, she begins to wonder how their upcoming performance


might be put to a greater good. Emerson's graphic novel (developed with Peter Reynolds' FableVision


media company) succeeds on several levels: the characters are credibly diverse in personality and


appearance, and their individual stories are carefully twisted into a full and complex story arc.


Additionally, information about leukemia's physical toll on a young patient and research methods to


combat it are integrated cleanly and without didacticism. Full-color panels vary in size and shape, with


scenes moving from the stage to a soda shop to the back corridors of the hospital. Gentler and for a


younger crowd than Judd Winick's Pedro and Me (2000), this bouncy cartoon story nonetheless mines


equally serious territory, and stands a good chance of finding wide popularity to boot.

— Francisca Goldsmith, BOOKLIST, March 15, 2010

Vita is having a hard time making friends and meeting people at her new school until the day she holds auditions for her rock band Zebrafish. While she has big hopes and dreams for the group, she's disappointed with the kids' musical talents. However, she finds skills and abilities in these new bandmates, and they all work together to create a music video. As the band plans and strategizes, Vita can't help but be disappointed that one member continually misses meetings. Then she learns that Tanya has leukemia, and Zebrafish holds a fundraising concert to help the hospital get the medical equipment it needs. Illustrations vary greatly in size and color; some are full page, some are full spreads, and others appear in panels. All are uncluttered and easy to follow. Clear and sharply inked, the color art makes a fine contrast between light and dark scenes and creates balance and tone throughout. This book will speak to children about fighting for a cure/treatment for cancer and shows the value of involvement in this important issue.–SLJ, May 2010
Book Videos
Advertisement