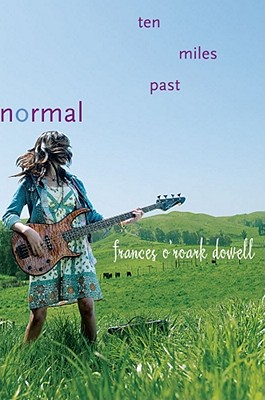 Ten Miles Past Normal
Hardcover

* Individual store prices may vary.
Other Editions of This Title:
Digital Audiobook (6/30/2011)
Paperback (5/22/2012)
Description
Janie Gorman wants to be normal. The problem with that: she's not. She's smart and creative and a little bit funky. She's also an unwilling player in her parents' modern-hippy, let's-live-on-a-goat-farm experiment (regretfully, instigated by a younger, much more enthusiastic Janie). This, to put it simply, is not helping Janie reach that "normal target." She has to milk goats every day…and endure her mother's pseudo celebrity in the homemade-life, crunchy mom blogosphere. Goodbye the days of frozen lasagna and suburban living, hello crazy long bus ride to high school and total isolation--and hovering embarrassments of all kinds. The fresh baked bread is good…the threat of homemade jeans, not so much.

It would be nice to go back to that old suburban life…or some grown up, high school version of it, complete with nice, normal boyfriends who wear crew neck sweaters and like social studies. So, what's wrong with normal? Well, kind of everything. She knows that, of course, why else would she learn bass and join Jam Band, how else would she know to idolize infamous wild-child and high school senior Emma (her best friend Sarah's older sister), why else would she get arrested while doing a school project on a local freedom school (jail was not part of the assignment). And, why else would she kind of be falling in "like" with a boy named Monster—yes, that is his real name. Janie was going for normal, but she missed her mark by about ten miles…and we mean that as a compliment.

Frances O'Roark Dowell's fierce humor and keen eye make her YA debut literary and wise. In the spirit of John Green and E. Lockhart, Dowell's relatable, quirky characters and clever, fluid writing prove that growing up gets complicated…and normal is WAY overrated.
Praise For Ten Miles Past Normal…
Ten Miles Past Normal

by Frances O'Roark Dowell

Middle School Atheneum 211 pp.

3/11 978-1-4169-9585-2 $16.99 g

When Janie Gorman was a little girl, she wanted to live on a goat farm. She sold her dream so well that her parents actually moved to the country (Manneville, North Carolina) and started a farm. Now, though, she is a ninth grader who knows that showing up with goat excrement on her shoe is not going to get her into the popular clique. Janie narrates her first year in high school with her sure, smart, sarcastic voice—probably the same persuasive voice she used on her parents. She lives far from her longtime best friend Sarah, with only her bicycle for transportation. High school becomes a little more bearable when two things happen: cute boy Jeremy Fitch and his jam band allow Janie into their group, and a school history project leads Janie and Sarah to aging civil rights activists. Dowell gets all the details of ninth grade right: the changing relationships with friends; the allure and disappointment of the forbidden boy; embarrassing parents; and how having a passion changes everything. The secondary characters are kids you would like to hang out with, especially Monster, the oversized, loving friend who is just too old to be Janie's boyfriend, and Sarah's cool, nonconformist sister Emma. Middle schoolers with an eye to the future will love imagining themselves into Janie's world.
--The Horn Book, March/April 2011

A quirky coming-of-age for girls ready to discover their cool aunt's stash of vintage copies of Sassy. In her first months of high school, Janie Gorman is discovering the unfortunate, not at all subtle differences between offbeat and off-putting as the daughter of a rather dilettantish farming family. Sure, she sews her own up-cycled clothes, creating skirts "made out of an old pair of jeans and some killer fabric scraps," and embraces milking the farm's goats, Loretta Lynn, Tammy Wynette and Patsy Cline. But to catch the bus on time, Janie occasionally forgets to remove the hay from her hair or scrape the goat dung from her shoes, and it's getting her noticed, in a feeling-forced-to-hide-in-the-library-during-lunch kind of way. Encouraged by the sweet, thoughtful and utterly misnamed Monster Monroe to "live large" and embrace her whole, idiosyncratic self, Janie and her best friend, straight-laced and super-academic Sarah, go all-in. They hurl themselves into a project highlighting local heroes of the Civil Rights Era, learn to play bass and accordion and outgrow a hopeless shared crush on hunky jerk Jeremy Fitch. That's a lot of ground to cover, and the plot occasionally teeters under the weight of its many developments and down-home secondary characters, but Janie's voice—anxious, funny and winning—holds it all together as she finds and takes her place at school and on the farm. - KIRKUS, February 15, 2011



DOWELL, Frances O'Roark. Ten Miles Past Normal. 224p. S & S/Atheneum. Mar. 2011. Tr $16.99. ISBN 978-1-4169-9585-2; ebook $9.99. ISBN 978-1-4169-9587-6. LC number unavailable.

Gr 6-10–When Janie was nine she persuaded her parents to move to a small farm. Now that she is 14, that life has lost some of its charm. She is rarely noticed at school, except for things like manure-scented shoes. Still, Janie is hopeful about high school, and she and her friend Sarah try branching out–joining Jam Band, making new friends, and working on an intriguing local-history project. There is a love interest (or two), and parental embarrassment, and Sarah's cool older sister to look up to. But none of these standard YA novel tropes is handled in a standard way. Dowell brings a completely refreshing take on the coming-of-age novel. Janie is not suffering through anything harsher than trying to find her place in high school. That can be difficult enough, as the author seems to know. Janie is realistic, smart, crabby, emotional, loving to her family, not overly dramatic. Dowell's writing is smart, lithe, and cheerful. The plot covers only a few weeks' time, and the story flies along. It's about making friends, keeping friends, trying to broaden horizons, meeting boys, seeing idols from a different perspective, and staying true to oneself without feeling lost in a big school. Throw in an interesting subplot about civil-rights history and you've got a rich book that will resonate with young teens who may not see themselves in other, darker, YA literature.–Geri Diorio, The Ridgefield Library, CT

- School Library Journal March 1, 2011


Ten Miles Past Normal.

Dowell, Frances O'Roark (Author)

Mar 2011. 224 p. Atheneum, hardcover, $16.99. (9781416995852).

Moving up to a big new high school can throw anyone off her game. For Janie it hardly helps her cool
quotient that her family is into sustainable living on a farm well out of town. Old friends are no longer in
the same lunch period, and boys might as well live on another planet. When she and friend Sarah track a boy they both like, the quest brings them to a weekly Friday-afternoon jam-band session and new musical and social vistas. Then a class project leads Janie to discover a couple of elderly townspeople who had been civil-rights leaders in voter registration, figures who deeply move her and enrich her view of both the past and present. Life turns around quickly, and somewhat miraculously, but this is a witty, poignant story about trying to fit in and finding a bigger world and a more secure self in the process.

--Booklist, March 1, 2011

4Q 4P M J

Dowell, Frances O'Roark. Ten Miles Past Normal. Atheneum, 2011. 224p. $16.99. 978-1-4169-9585-2.

All fourteen-year-old Janie Gorman wants is a normal life so she can fit in at high school, but when your quirky family lives on a farm (or "farm-ette," as she calls it), sometimes goat poop on your shoes happens—as does being called "Skunk Girl." At first Janie hides in the library with the other losers, but soon her determination to have a better life pays off. First, she tries Jam Band, where a gentle giant named Monster teaches her the bass. Then, report research leads to some local but unsung heroes of the Civil Rights movement, opening Janie's eyes to the larger world. Soon, she finds room not just for the "big" feelings but also for all her family's, friends', and own quirks and comes to realize how overrated "normal" really is.

This delightful book is full of details about Janie's world and its idiosyncratic characters. Especially wonderful is that readers come to know the characters gradually, with their quirks—like Janie's clothes-making and talking to her goats—appearing one by one. Janie's high school fears and disappointments, such as wondering if she has outgrown her best friend, will resonate with most readers, as will her thoughtful realizations about the important things in life. The book's only drawbacks are occasional lapses in teenspeak (e.g., a boy saying, "I can't abide"), and Dowell pointing out Janie's "big feelings" rather than just trusting the reader to understand the import of those feelings. Nevertheless, this feel-good book should enjoy wide appeal.—Rebecca Moore.

The first-person present voice is perfect for this story, as it is the way teenagers really talk. There are also other ways kids can relate to this book, like Janie being an outcast in high school. Some components, however, do not feel realistic, like the lack of consequences for cutting school in one scene. This book will appeal to fans of Lisa Yee or Justina Chen Headley. 4Q,4P.—Emma Moran, Teen Reviewer.

- VOYA April 2011

A farm girl who's far from normal
Review By Emily Masters

Janie Gorman strives to be a normal high school freshman, but the fact that she lives on a goat farm doesn't help her much in her quest for "normal." She hops on the school bus smelling of goat poop (thanks to her morning chore of milking the goats), and she eats lunch in the library, because none of her friends have the same lunch period as her. To make matters worse, Janie's mom insists on writing an extremely embarrassing blog about "farm life." None of these trials are made any easier by Janie's knowledge that she was the one who recommended the move to the farm in the first place!

In a realistic and funny voice, Janie manages to make fun of herself and her peculiar situation in a way that provokes genuine empathy. She experiences her first real crush on a boy and feels the pain of trying to hang onto an old and cherished friendship in the face of quite a few challenges. She learns that making new friends can be just as wonderful as hanging onto the old, and she deals with the loss of someone important to her, learning a lot about herself in the process. She does all of this with humor and a great deal of self-awareness. Although she wants to be "normal," she begins to embrace what it is that makes her different, and that is refreshing and fun to read.

Although Frances O'Roark Dowell is a best-selling and highly acclaimed author of novels for young readers, Ten Miles Past Normal is her first novel for teens. She lives up to her acclaim in this unusual coming-of-age story about a 14-year-old girl who is far from normal, but very endearing.

--BookPage

Funny, wise, and artfully realistic, Dowell offers the upside of abandoning normal, embracing your own weirdness and barreling on with life."
--NPR
Atheneum Books for Young Readers, 9781416995852, 224pp.
Publication Date: March 22, 2011
About the Author
Frances O'Roark Dowell is the bestselling and critically acclaimed author of Dovey Coe, which won the Edgar Award and the William Allen White Award; Where I'd Like to Be; The Secret Language of Girls and its sequels The Kind of Friends We Used to Be and The Sound of Your Voice, Only Really Far Away; Chicken Boy; Shooting the Moon, which was awarded the Christopher Award; the Phineas L. MacGuire series; Falling In; The Second Life of Abigail Walker, which received three starred reviews; Anybody Shining; Ten Miles Past Normal; Trouble the Water; the Sam the Man series; The Class; How to Build a Story; and most recently, Hazard. She lives with her family in Durham, North Carolina. Connect with Frances online at FrancesDowell.com.
or
Not Currently Available for Direct Purchase