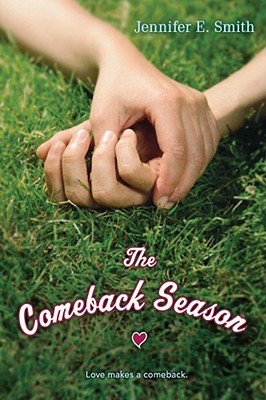 The Comeback Season
Paperback

* Individual store prices may vary.
Other Editions of This Title:
Paperback (10/13/2015)
Hardcover (3/4/2008)
Description
The last place Ryan Walsh should be this afternoon is on a train heading to Wrigley Field. She should be in class, enduring yet another miserable day of her first year of high school. But for once, Ryan isn't thinking about what she should be doing. She's not worried about her lack of friends, or her suffering math grade, or how it's been five whole years since the last time she was really and truly happy. Because she's finally returning to the place that her father loved, where the two of them spent so many afternoons cheering on their team. And on this -- the fifth anniversary of his death -- it feels like there's nowhere else in the world she should be.

Ryan is once again filled with hope as she makes her way to the game. Good luck is often hard to come by at a place like Wrigley Field, but it's on this day that she meets Nick, the new kid from her school, who seems to love the Cubs nearly as much as she does. But Nick carries with him a secret that makes Ryan wonder if anyone can ever really escape their past, or believe in the promise of those reassuring words: "Wait till next year." Is it too much for Ryan to hope that this year, this season, might be her comeback season?
Praise For The Comeback Season…
"A wonderfully written story about love, heartache, and loss that digs deep into the most important lesson sports have to offer us -- hope. As Smith so eloquently tells us, it's not about winning or losing, it's about stepping up to the plate, over and over again. This story -- impossible to put down -- will stay with you like your biggest loss...and your greatest comeback." -- Tim Green, author of Football Genius and Football Hero

"Jennifer E. Smith has taken the themes of young love, deep loss, and professional baseball -- in the form of the hapless Cubs -- and turned them into a terrific read that overflows with passion and insight. Lessons about the saving nature of hope pervade this story of memory and yearning. Here's one old sportswriter who calls The Comeback Season a leadoff homer by an All-Star rookie." -Rick Telander, senior sports columnist, Chicago Sun-Times

"In a deeply touching and profound debut, Jennifer E. Smith sensitively explores the parallels and intersections between the game of baseball and the game of life. Smith is a writer and a fan who understands the details and depth of the great American pastime and of the human heart as well." -- Bob Krech, author of Rebound

"The Comeback Season is a warm and brave, if heartbreaking, story about first love. It will make you cry and laugh and cry again!" -- Melissa de la Cruz, author of The Au Pairs and Blue Bloods

"The Comeback Season is one of those books that breaks your heart -- and can't be put down. It is a beautifully written story about loss of innocence, the strength of the human spirit, and why there is nothing quite like being a Chicago Cubs fan." -- John Feinstein, bestselling author of Last Shot, Vanishing Act, and Cover-up
Simon & Schuster Books for Young Readers, 9781416996064, 256pp.
Publication Date: February 23, 2010
About the Author
Jennifer E. Smith is the author of Hello, Goodbye and Everything in Between, The Geography of You and Me, This Is What Happy Looks Like, The Statistical Probability of Love at First Sight, The Storm Makers, You Are Here, and The Comeback Season. She earned her master's degree in creative writing from the University of St. Andrews, and her work has been translated into thirty languages.
or
Not Currently Available for Direct Purchase