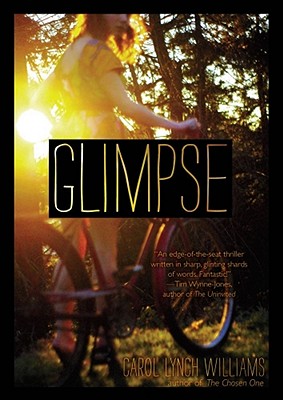 Glimpse (Hardcover)
Simon & Schuster/Paula Wiseman Books, 9781416997306, 484pp.
Publication Date: June 22, 2010
* Individual store prices may vary.
Description
In one moment
it is over.
In one moment
it is gone. The morning grows
thin, grey
and our lives-
how they were-
have vanished.
Our lives have
changed when I walk in
on Lizzie
my sister
holding a shotgun. Twelve year old girl Hope's life is turned upside down when her older sister Lizzie becomes an elective mute and is institutionalized after trying to kill herself. Ever since their dad died Hope and Lizzie have relied on each other from a young age. Their mother is a reluctant and unreliable parent at best, who turns tricks to support the family. Throughout the course of this lyrical and heartbreaking narrative readers and Hope discover that the mother is prostituting Lizzie and it's up to Hope to bring the truth to light to save her sister. With raw and haunting writing reminiscent of Ellen Hopkins and Elizabeth Scott, Carol Lynch Williams is a promising new YA voice.
Praise For Glimpse…
"Glimpse is a subtle punch in the gut. Williams' demonstrates how courage, resilience, and love can help young people in the most dire of situations survive. This is a book I will read again and one I will recommend to teachers and to my own students." -- Chris Crowe, author, professor at BYU and former ALAN president.




" An edge-of-the-seat thriller written in sharp, glinting shards of words. Held in, held back, whispered and shouted. Fantastic!" -- Tim Wynne-Jones, author of the Uninvited



"A brutal, gripping story." --BOOKLIST



"A page-turner for Ellen Hopkins fans."—KIRKUS



"This well-paced, raw novel-in-verse is a worthy purchase, especially for Ellen Hopkins's fans who are looking for another verse novel in which teens overcome dire circumstances."--SCHOOL LIBRARY JOURNAL, August 2010
or
Not Currently Available for Direct Purchase