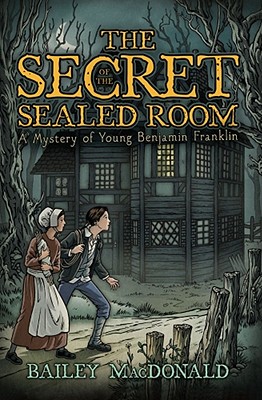 The Secret of the Sealed Room: A Mystery of Young Benjamin Franklin (Hardcover)
A Mystery of Young Benjamin Franklin
Aladdin Paperbacks, 9781416997603, 208pp.
Publication Date: October 5, 2010
Description
Indentured servant Patience Martin lives a hard life in 1721 Boston, but things get even harder when her demanding employer is found dead--in a bedroom locked from the inside. Powerful townsmen accuse Patience's friend, Moll Bacon, of being a witch and the murderer, but with her own future in jeopardy, Patience doesn't know how she can help prove Moll's innocence--until she finds a new friend. Ben Franklin is a clever young printer's apprentice with a fondness for wise aphorisms. Ben risks his own skin to protect Patience, and his cunning and ingenuity are a perfect match for her courage and determination. But will their friendship and teamwork be enough to solve the mystery, clear Moll, and free Patience from a harsh life of servitude?
About the Author
Bailey MacDonald is a professional actress and playwright who lives near Atlanta, Georgia. When she is not writing, she performs under a different name with a theater group in that city. Bailey has always loved theater, and when she began to write her first historical mystery, it was a natural choice to select Stratford-on-Avon, the home of the great William Shakespeare, as the setting for a tale of trickery, murder, and detective work.
Advertisement