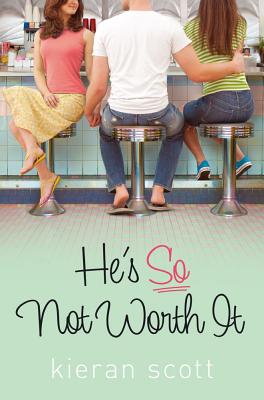 He's So Not Worth It (The He's So/She's So Trilogy) (Hardcover)
Simon & Schuster Books for Young Readers, 9781416999539, 368pp.
Publication Date: June 7, 2011
Other Editions of This Title:
Paperback (5/1/2012)
* Individual store prices may vary.
Description
Ally Ryan, come on down to the Jersey Shore and forget your troubles!

Have you recently been humilated in front of your friends and family at your former best friends birthday party? Was your almost boyfriend partly responsible for that humilation by withholding some vital information about where your estrangerd father is? Did you come home to find said estranged father sitting on your stoop?

If so, then it sounds like you could use a vacation! The Jersey Shore is the place to be. Your mother may be living with her boyfriend of only a few months, but at least the stunt Shannen pulled has put some of your friends back in your court. Even so, you're still angry and what better way to get over Jake than to blow off some steam with local guy, Cooper. People will hardly recognize your new attitude, but the old one wasn't getting you anywhere, so who cares!

Jake Graydon, an exciting opportunity is waiting for you in the service industry!

Are your grades so low your parents have grounded you for the summer? Did you the girl you really like unceremoniously leave you behind? Would you rather eat dirt than see your friends again? Then a job at the local coffee shop is just the ticket! Suprisingly, Ally's father is the new manager so you get to be reminded of her nearly every day. Maybe it's time to start flirting with your best friend's ex or even taking school a bit more seriously. Especially when you finally see Ally and she's hanging around with some loser and it's couldn't be more clear that she is over you.

Have a great summer!
About the Author
Kieran Scott is the author of the True Love series, including Only Everything, Complete Everything, and Something True; and the Non-Blonde Cheerleader series along with the He's So/She's So trilogy: She's So Dead to Us, He's So Not Worth It, and This is So Not Happening. She also writes the New York Times bestselling series Private, as well as the Shadowlands trilogy, under the pen name Kate Brian. She resides in New Jersey with her family.
or
Not Currently Available for Direct Purchase