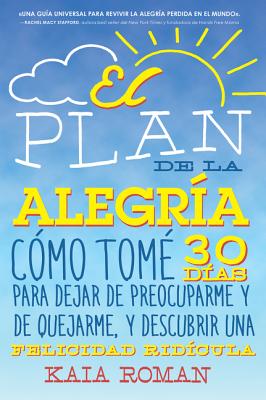 El plan de la alegria
Cómo tomé 30 días para dejar de preocuparme y de quejarme, y descubrir una felicidad ridícula
Paperback

* Individual store prices may vary.
Description
Ve más allá de los momentos fugaces de felicidad y planea un gozo duradero en esta guía de treinta días para hallar y conservar la felicidad en un mundo frenético.
Kaia Roman, madre, esposa y mujer de negocios, siempre tuvo un plan. Sin embargo, cuando se derrumbó el mayor de sus planes, el negocio del que había sido cofundadora, Kaia se sintió aplastada por la depresión. Decidida a darle un giro total a su vida para dejar atrás sus arraigados hábitos de estrés y ansiedad, Kaia decidió suspender por el momento todo lo demás para dedicarse a buscar únicamente el gozo durante treinta días. Los resultados fueron asombrosos y duraron mucho más que el proyecto inicial de un mes.
En estas reveladoras memorias llenas de inspiración, Kaia usa su destreza en los negocios con el fin de crear un plan de gozo que le permitiera ponerse de nuevo en pie con rapidez. Usando las investigaciones científicas sobre las hormonas, los neurotransmisores y la concientización, junto con una dedicación diaria a crear una existencia más llena de gozo, Kaia enseña a sus lectores cómo ir más allá de la felicidad temporal para triunfar en la creación de un gozo perdurable.
Esta obra, completa con consejos, ejercicios y detalles clave para llevar a la práctica, esta es la guía de Kaia sobre cómo, paso por paso, tanto ella como cualquier otra persona, puede desechar las cosas negativas y planificar para que su vida esté llena de gozo.
A 30-day guide to finding and keeping happiness in a hectic world
As a mother, a wife, and a businesswoman, Kaia Roman always had a plan. But when her biggest plan, the business she cofounded, collapsed, Kaia found herself crushed by depression. Determined to turn her life around and put her ingrained habits of stress and anxiety behind her, Kaia decided to put everything else on hold and dedicate thirty days to the singular pursuit of joy. The results were astonishing-and lasted much longer than the initial monthlong project.
In this uplifting and eye-opening memoir, Kaia uses her business savvy to create a concrete joy plan to get back on her feet fast. Using scientific research on hormones, neurotransmitters, and mindfulness, along with the daily dedication to creating a more joyful existence, Kaia teaches readers how to move past temporary happiness and succeed in creating joy that lasts.
Complete with advice, exercises, and key takeaways, this is Kaia's step-by-step guide to how she, and everyone else, can ditch the negative and plan for the joy in their lives.
HarperCollins Espanol, 9781418599256, 352pp.
Publication Date: September 25, 2018
or
Not Currently Available for Direct Purchase