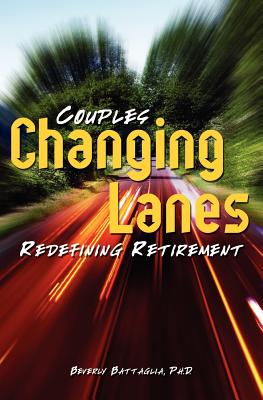 Changing Lanes: Couples Redifining Retirement (Paperback)
Couples Redifining Retirement
Booksurge Publishing, 9781419695131, 384pp.
Publication Date: August 12, 2008
Description
In Changing Lanes: Couples Redefining Retirement, psychologist and social scientist Beverly A. Battaglia gives us a compelling and highly useful map that guides couples who are contemplating, actively pursuing, or living in retirement. Drawing from interviews with one hundred seniors of all ages, Dr. Battaglia explores with frankness and sensitivity the issues facing Boomers and the elderly. Using a creative construct of Benefits-Drawbacks-Compromises for a variety of retirement concerns, the reader is given the opportunity to weigh choices and make decisions based on logic, solid reasoning, and emotional need. From making stronger marital and familial relationships to facing health issues, from creating a supportive community to being knowledgeable about care giving, financial, and end-of-life issues, this book is an essential guide for anyone negotiating the unknown and often frightening road to retirement.
About the Author
Beverly Battaglia earned a Ph.D. in social psychology and dedicated her career to studying the cultural and generational nuances of age, gender, ethnicity, and national differences. She has published two books that focus on improved interactions between diverse cultures, and numerous articles on age, gender, and cultural issues. Her quarterly newsletter, Cross Cultural Connection, was read by major healthcare and community agencies throughout the country. She has headed her own consulting firm for two decades and has developed highly successful retirement-preparation programs. The author now enjoys retired life with her husband, dividing their time between Palm Desert, California and Vashon Island, Washington.
Advertisement