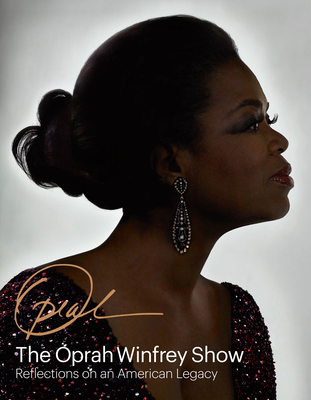 The Oprah Winfrey Show
Reflections on an American Legacy
Hardcover

* Individual store prices may vary.
Description
The Oprah Winfrey Show
came to an end on May 25, 2011, after 25 years on television. Arguably the most influential television personality of all time, Ms. Winfrey and her show have had an impact on American culture that cannot be overstated. This beautifully illustrated book will explore and celebrate the legacy of the show using essays and tributes from a stellar group of contributors including Maya Angelou, Bono, Ellen DeGeneres, Nelson Mandela, Toni Morrison, Julia Roberts, Maria Shriver, Gloria Steinem, John Travolta, and more. The book will feature photographs from the Harpo archive, spanning the 25 years the show has been on the air, including the farewell season.
Essays within the book will be dedicated to different themes (e.g., personal growth, social action, and literature) and will explore how the show has touched people's lives and impacted the conversation around those issues. The essays will be followed by narrative text, which will guide the reader through the history of the show's involvement with each topic and will include stories about the events, people, and organizations that have acted as touchstones or provided insights along the way. Accompanying the essays and narrative text will be images from the show, behind-the-scenes photographs, as well as signature portraits of the contributing celebrities taken by noted photographers.
The book will allow
Oprah Winfrey Show
fans to understand the broad cultural impact of the show, while revisiting favorite guests, episodes, and stories.
Praise for
Oprah Winfrey Show: Reflections on an American Legacy:


"A lavish and loving tribute to the television personality, icon, and philanthropist makes a powerful case for Oprah's centrality and influence on American culture. . . . The book shines when it . . . gives us, in its gorgeous photographs, behind-the-scenes glimpses of the empty studio, the primping process (with no fewer than three makeup artists), and the vast army of producers and writers behind Oprah's magic."
"A big, glossy paean to the queen of talk . . . A chance to relive the first twenty-five years of 'aha' moments." —
USA Today
"[A] sumptuous tribute to the talk-show icon." —
Washington Post
(A Best Book of 2011)
"This is a perfect gift for any Oprah fan or anyone just looking for inspiration."
—Dallas Morning News
—
Publishers Weekly


Abrams, 9781419700590, 240pp.
Publication Date: November 15, 2011
About the Author
Deborah Davis is the author of Strapless: John Singer Sargent and the Fall of Madame X (Tarcher/Putnam, 2003), Party of the Century: The Fabulous Story of Truman Capote and His Black and White Ball (Wiley, 2006), The Secret Lives of Frames: 100 Years of Art and Artistry (Filipacchi Publishing, 2007), Gilded: How Newport Became the Richest Resort in America (Wiley, 2009), and the upcoming Guest of Honor: Booker T. Washington, Theodore Roosevelt, and the White House Dinner that Shocked a Nation, which will be published in Fall 2011 by Atria/S&S. She lives in Montclair, New Jersey.
or
Not Currently Available for Direct Purchase