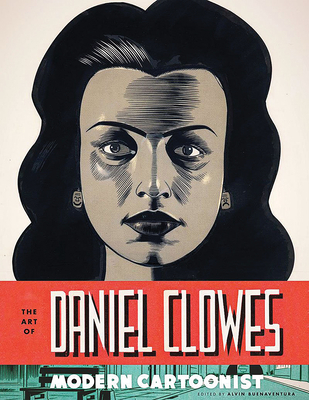 The Art of Daniel Clowes (Hardcover)
Modern Cartoonist
Abrams ComicArts, 9781419702082, 224pp.
Publication Date: April 1, 2012
* Individual store prices may vary.
Description
Throughout his 25-year career, alternative cartoonist/screenwriter Daniel Clowes has always been ahead of artistic and cultural movements. In the late 1980s his groundbreaking comic book series Eightball defined indie culture with wit, venom, and even a little sympathy. With each successive graphic novel (Ghost World, David Boring, Ice Haven, Wilson, Mister Wonderful ), Clowes has been praised for his emotionally compelling narratives that reimagine the ways that stories can be told in comics. The Art of Daniel Clowes: Modern Cartoonist is the first monograph on this award-winning, New York Times–bestselling creator, compiled with his complete cooperation. It includes all of Clowes's best-known illustrations as well as rare and previously unpublished work, all reproduced from the original art, and also includes essays by noted contributors such as designer Chip Kidd and cartoonist Chris Ware.

Praise for The Art of Daniel Clowes:

"Even if you're not an avid reader of [Clowes's] books and strips (your loss), this volume will entice and entertain." —The Atlantic

"The real selling point of Modern Cartoonist is the art . . . some of which [has] been little-seen even by die-hard Clowes fans." —A.V. Club

"This excellent retrospective of his work from the late 1980s onward, edited by Alvin Buenaventura, showcases his visual gifts and always evolving style; his beautiful early stuff looks nothing like his beautiful later stuff." —Newsday
"A perfect introduction." —NPR.org

"One of the greatest cartoonists of the past several decades finally gets his due." —The Washington Post


About the Author
Alvin Buenaventura recently started the publishing company Pigeon Press. He previously published artistic and insightful graphic novels, books, and prints under the imprint Buenaventura Press from 2003 to 2009. Buenaventura also edits the monthly comics section for McSweeney's literary magazine, The Believer. He lives in Oakland, California.
Chip Kidd is a graphic designer and writer, and editor-at-large for Pantheon. A three-time Eisner Award winner, he has written and designed over a dozen books on comics including Peanuts: The Art of Charles M. Schulz. His novels, The Cheese Monkeys and The Learners, were national bestsellers, as was True Prep: It's a Whole New Old World (with Lisa Birnbach). Other books include Go: A Kidd's Guide to Graphic Design and the forthcoming Judge This. He lives in New York City.