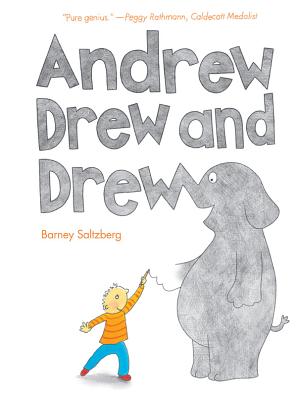 Andrew Drew and Drew
Hardcover

* Individual store prices may vary.
Description
When Andrew gets hold of a pencil, anything can—and does—happen in this innovative and artistic book. The story literally unfolds step-by-step as readers are invited to follow Andrew through flaps and gatefolds. After sharpening his drawing implement on the first page, Andrew challenges the boundaries of each spread by beginning with a line that leads . . . and leads . . . to unexpected finishes. Staircases become dinosaurs, kites become rockets, and even the most unassuming squiggle morphs into a giant chicken! This lighthearted depiction of artistic inspiration is sure to engage doodlers of all ages.



Praise for Andrew Drew and Drew

"Any question of reality versus representation is the gentlest kind, utterly unobtrusive...Joyful imagination, plain and simple."

—Kirkus Reviews



"The magic comes from the accompanying artwork, which follows the eponymous boy and his adventures in drawing... Like a certain boy with a purple crayon, Andrew knows that drawing offers limitless possibilities, and readers will, too."

—Publishers Weekly



"In this humorous and heartfelt portrait of a young artist, Andrew models by example the ebb and flow of the creative process."

—Shelf-Awareness



"Each page in this cleverly-designed book is filled with a line, a loop, even a stair step that Andrew has doodled on the paper, and the beginnings of his drawings often lead to something that even the artist himself doesn't expect."

—Reading Today Online



"The text is spare, with only a few words per page, letting the products of the boy's imagination and readers' anticipation of them shine as the focus of the book. Never has white space seemed so inviting."

—School Library Journal



"Children of all ages—especially those with an interest in drawing—will love exploring the pages of Andrew Drew and Drew. Along the way, they just might absorb some of the book's message about the power of art and the joy of creating it."

—BookPage



AWARDS:

GOLD - 2012 National Parenting Publications Book Awards

RECOMMENDED - 2012 Parents' Choice Awards, Picture Books

Noteworthy Titles for Children and Teens - 2013 Capitol Choices



 
Abrams Appleseed, 9781419703775, 40pp.
Publication Date: October 1, 2012
About the Author
Barney Saltzberg is the creator of more than 30 children's books, as well as a songwriter and performer. His accolades include a 2010 NAPPA Gold Award, a 2011 Teacher's Choice Award for the Family, and a Kirkus starred review for Beautiful Oops! Saltzberg lives with his wife, dogs, and guitars in Los Angeles.