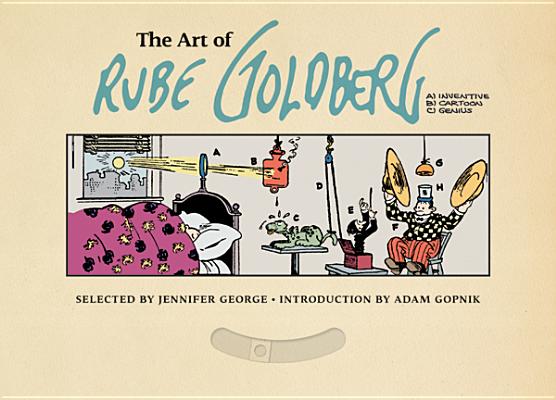 The Art of Rube Goldberg
(A) Inventive (B) Cartoon (C) Genius
Hardcover

* Individual store prices may vary.
Description
Not many of us make it into the dictionary as an adjective. But then again, Rube Goldberg was no ordinary noun. He was a cartoonist, humorist, sculptor, author, engineer, and inventor, and in a 72-year career he wrote and illustrated nearly 50,000 cartoons. Goldberg (1883–1970) was the most famous cartoonist of his time, best known for his comical inventions, which were syndicated in daily newspapers throughout the world. Author Jennifer George celebrates all aspects of her grandfather's career, from his very first published drawings in his high school newspaper and college yearbook to his iconic inventions, his comic strips and advertising work, and his later sculpture and Pulitzer Prize–winning political cartoons. Also included are essays by noted comics historians, rare photographs, letters, memorabilia, and patents, many reproduced here for the first time. Brilliantly designed and packaged to capture the inventiveness of Rube Goldberg's work,
The Art of Rube Goldberg
is a coffee table book the whole family can enjoy.
From Merriam-Webster's Dictionary
:
Rube Gold·berg.
adjective
\rüb-ˈgōl(d)-ˌbərg\: accomplishing by complex means
what seemingly could be done simply <a kind of Rube Goldberg contraption . . . with five hundred moving parts —L. T. Grant>;
also
: characterized by such complex means.
also
:
Rube Gold·berg·i·an
"Goldberg's cartoons touch the edge of modern art."
—Adam Gopnik, from his introduction
Praise For The Art of Rube Goldberg: (A) Inventive (B) Cartoon (C) Genius…
"There will likely never be another Rube Goldberg. Fortunately, his granddaughter's wonderful book ensures that we'll always remember this one-of-a-kind cartooning legend."
— The Washington Times
Abrams ComicArts, 9781419708527, 192pp.
Publication Date: November 12, 2013
About the Author
Jennifer George, Rube's granddaughter and the chief creative officer of the Rube Goldberg Institute (RGI), has led this effort since 2007 and oversees all aspects of her grandfather's estate. Jennifer has conceived and developed a new generation of cultural events and educational projects, often linking the fields of art, science, and technology through free resources, activities, contests, and curriculum guides available at rubegoldberg.org. She is the author of Rube Goldberg's Simple Normal Humdrum School Day, Rube Goldberg's Simple Normal Definitely Different Day Off,Rube Goldberg and His Amazing Machines, and The Art of Rube Goldberg. She lives in New York City. Vin Vogel is a Brazilian author-illustrator and the creator of A Home for Leo and the Yeti series. He has illustrated over 50 books, including the latest Too Much Slime! by Frances Gilbert; Naughty NinjaTakes a Bath by Todd Tarpley; and Maddi's Fridge by Lois Brandt, which won a number of awards and has been translated into five languages. After living in New York City, he is back in his hometown of Rio de Janeiro, where he lives with two cats and a dog. They are surrounded by many plants, piles of picture books, and some single fin surfboards.

Adam Gopnik,staff writer for the New Yorker, is a three-time National Magazine Award winner and author of many books, including Paris to the Moon and Through the Children's Gate.

Al Jaffee is an award–winning cartoonist and cultural icon best known for his work in MAD magazine as one of the "Usual Gang of Idiots." He is the creator, artist, and writer of the MAD Fold-In, Tall Tales, and Snappy Answers to Stupid Questions.

Carl Linich is a scholar, teacher, and performer of traditional Georgian polyphonic singing, and a member of Trio Kavkasia. He is also a visual artist who specializes in original cartoon art.

Peter Maresca is editor and founder of Sunday Press Books, publisher of full-size reproductions of classic comic strips including Little Nemo in Slumberland, Krazy Kat, and others.

Paul Tumey is a writer, designer, and comics historian. His recent work can be found in "The Masters of Screwball Comics" blog and in Framed!, his monthly column for the Comics Journal.

Geoff Spear shot all the photography for Batman Collected, Batman Animated, Bat-Manga!, Peanuts: The Art of Charles M. Schulz, and Mythology: The DC Comics Art of Alex Ross. His award-winning photographs have appeared regularly in Vogue, Entertainment Weekly, GQ, Newsweek, and the New York Times, and on numerous book covers.

Brian Walker has written, edited, and contributed to more than thirty-five books on cartoon art and is the author of the definitive history, The Comics: The Complete Collection.
Coverage from NPR