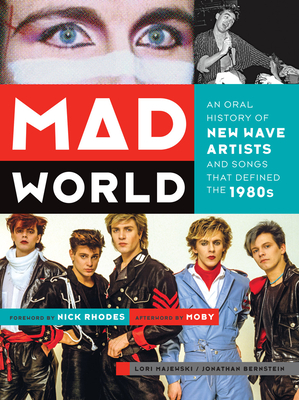 Mad World (Paperback)
An Oral History of New Wave Artists and Songs That Defined the 1980s
Harry N. Abrams, 9781419710971, 320pp.
Publication Date: April 15, 2014
* Individual store prices may vary.
About the Author
Lori Majewski was a cofounder and editor-in-chief of Teen People. She was also an executive editor of Entertainment Weekly and Us Weekly. She lives in Weehawken, New Jersey.
Jonathan Bernstein is a Los Angeles–based writer. He is the author of, among other titles, Pretty In Pink: The Golden Age of Teenage Movies, and has contributed to publications such as The Guardian, Spin, Rolling Stone, and The Face.
Praise For Mad World: An Oral History of New Wave Artists and Songs That Defined the 1980s…
"Holy Human League! Mad World professes to not be a definitive history of New Wave, but its authors could've fooled me. Every fantastic detail of the era pops back to life via the vivid tales of its top titans, from Adam Ant to Kajagoogoo (that's right! Kajagoogoo!). Getting lost in story after story made me never want to return to the world of twerking, texting and soy lattes. Come on, Eileen — can't we just whip it good forever?"
— Ian Drew, Entertainment Director, Us Weekly
"Mad World is an exhaustive, revelatory history of one of the most important eras of modern pop music. Lori Majewski and Jonathan Bernstein lived it, breathed it, and loved it — and make you want to relive it all over again. In a word: awesome."
— Shirley Halperin, Music Editor, The Hollywood Reporter
"Lori Majewski and Jonathan Bernstein take us behind the hairspray and eyeliner to reveal the inside stories of the songs that defined an often-overlooked era — tales of inspiration, ambition, tension, and, of course, hairspray and eyeliner."
— Alan Light, former Editor-in-Chief, Spin and VIBEmagazines
"Here it is—the whole glossy, gory, glorious story of the 1980s new wave revolution, in one addictive chapter after another. These are the artists who lived it all out, whether it's Duran Duran making the "Girls on Film" video or Kim Wilde finally explaining the "East California" enigma. Mad World captures the wild enthusiasm of the moment, evoking a time of perfect songs, innovative style, and lipstick cherry all over the lens."
— Rob Sheffield
"If you thrill to the sight of the MTV flag waving on the moon, if camera-click sounds make your heart skip a beat in anticipation of Duran Duran's "Girls On Film," and you know precisely what killed the radio star, then you'll melt with Mad World! Interviews with artists (Adam Ant, Kim Wilde, Howard Jones, Morrissey!) provide inside scoop on the MTV Generation hits we love."
— Martha Quinn
"Remember the feeling you had in your youth, when you'd meet a stranger who had your obscure favorite band's pin on their jacket? Reading Mad World feels exactly like that, except your new friend is charming, much smarter than you, shockingly well connected, and ready to dish. My one problem with the book is my one problem with the New Wave era: that it had to end."
— Dave Holmes
"Mad World is an exhaustive, revelatory history of one of the most important eras of modern pop music. Lori Majewski and Jonathan Bernstein lived it, breathed it, and loved it—and make you want to relive it all over again. In a word: awesome."
— Shirley Halperin
"Co-authors Lori Majewski and Jonathan Bernstein interviewed all of the bands and uncovered many tidbits that blew my mind. I called Lori to reminisce about the '80s—and dang, I'd love to have 12 more conversations with her, because we didn't even touch upon INXS or Depeche Mode."
— USA Today's Pop Candy Blog
"The book tells the tale of some of the decade's most unforgettable songs . . . in fascinating detail, letting the architects of these memorable records shine a light on how the sound of a generation came to be."
— The Hollywood Reporter Online
"In the book Mad World: An Oral History of New Wave Artists and Songs That Defined the 1980s, journalists Lori Majewski and Jonathan Bernstein interviewed some of the most memorable musicians of the genre to find out how it came to be."
— New York Post
"Many tomes about Rock and Roll exist, but Mad World is one of the first to give artists from the 1980s another day in the sun."
— The Huffington Post
"If you miss the days when the world was made of mesh and lace, you'll want to check out Mad World . . . hugely entertaining."
— RollingStone.com
"While Mad World is a must-have for the formerly frosted bangs set, it serves as a useful primer for anyone curious about the oft-maligned new wave era."
— The Los Angeles Review of Books
"A really informative and insightful read."
— People.com
"It's a book that pays due to an overlooked generation."
— Adam Ant
"I want to plug a book that I have nothing to do with but that I'm reading and loving and recommending to friends. It's called Mad World. If you're a big fan of 80s new wave music, they take all of those songs, and each chapter is a behind-the-scenes about the song, like "Come On Eileen," "Take on Me," ["True" by] Spandau Ballet. I am fascinated by this book."
— Gary Dell'Abate, aka Baba Booey
"As a good overview of new wave, this title should appeal to a wide audience of pop music lovers."
— Library Journal
"There aren't many books where you find The Smiths sharing cover space with Adam Ant, or Echo & The Bunnymen considered peers of Duran Duran. But that's Mad World for you—"An Oral History of New Wave Artists and Songs That Defined the 1980s," in which all manner of unlikely bedfellows are assigned equal space and glory in a very American perspective on that early 1980s period of big hair, big mouths, and, in far too many cases, very bad trousers. (Or pants, if you're a Yank.) In gathering up copious first-person interviews—including, to their enormous credit, a certain Morrissey—the American-born Majewski and Scots-raised Bernstein have assembled a thorough, and thoroughly entertaining, oral history of a vital period in popular music."
— Tony Fletcher
"The new wave era is often dismissed for its one-hit wonders and silly haircuts, but Lori Majewski and Jonathan Bernstein's book examines the period with a great deal of love and reverence."
— Buzzfeed