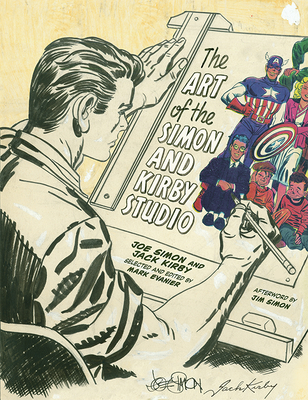 The Art of the Simon and Kirby Studio (Hardcover)
Harry N. Abrams, 9781419711602, 384pp.
Publication Date: November 11, 2014
* Individual store prices may vary.
About the Author
Joe Simon (1913–2011) and Jack Kirby (1917–1994) cre­ated many of comics' most enduring super heroes, such as Captain America. Together they helped establish the visual language of comics.
Mark Evanier, a writer and historian, has three Emmy Award nominations and received the Lifetime Achievement Award for animation from the Writers Guild of America. He lives in Los Angeles.
Jim Simon, the son of Joe Simon, grew up amid comic book history, assisting his father first as a young boy by erasing inked art boards and later in various creative and business ventures. During thistime Jim got to know many of the great comic book creators. He has published several books, including The Comic Book Makers, a widely praised coauthored account of Joe Simon's early days in comics; and contributed articles on the works of Simon and Kirby in books published by Marvel Comics/Entertainment, Titan Publishing, and Alter Ego. He has also been interviewed byHeritage Magazine for the Intelligent Collector, WNYC Radio, and elsewhere. Jim Simon lives in New York with his wife and family.
Praise For The Art of the Simon and Kirby Studio…
"Reading this book is like entering the offices of Simon and Kirby and rifling through their files, scouring the slush pile, even breathing in the smoke from one of Kirby's cigars. It's a museum in miniature, and like so much else these two artists touched, it's a wonder to behold."
— PopMatters
"The book gives us fast and furious art from the early days of comics—work done in an almost punklike frenzy—and it's fascinating to watch Kirby just warming up for his best yet to come."
— NewYorkTimes.com