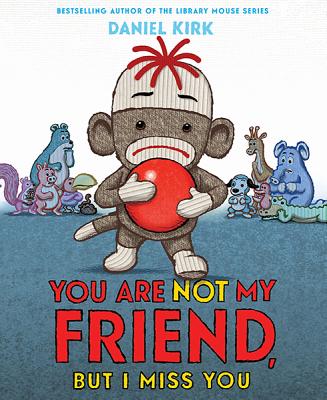 You Are Not My Friend, But I Miss You (Hardcover)
Abrams Books for Young Readers, 9781419712364, 32pp.
Publication Date: September 23, 2014
Description
When two friends--a sock monkey and a plush toy dog--get into an argument during playtime, Monkey gets his feelings hurt and proclaims, "You are not my friend " But when he takes his ball to find someone new to play with, he quickly learns that maybe he hasn't been a very good friend, either.Bestselling author/illustrator Daniel Kirk uses bold and humorous illustrations to convey the important message that sharing and other acts of friendship are two-way streets.

Praise for You Are Not My Friend, But I Miss You
"Kirk's skillfully paced mix of vignettes, close-ups and long shots guide readers smoothly through this emotional odyssey."
--Kirkus Reviews

"His frequent use of bold, large-scale drawing captures Monkey's equally outsize temperament, while the emphatic, minimal text is subtly poignant and supremely performable."
--Publishers Weekly

About the Author
Daniel Kirk has illustrated a number of popular and bestselling books for children, including Library Mouse, which Booklist heralded in a starred review as "fun, fun, fun." He lives in Glen Ridge, New Jersey.
Book Videos
Advertisement