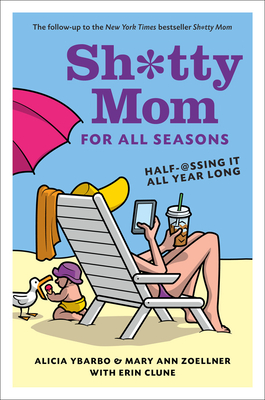 Sh*tty Mom for All Seasons (Hardcover)
Half-@ssing It All Year Long
Harry N. Abrams, 9781419714047
Publication Date: April 5, 2016
* Individual store prices may vary.
About the Author
Three-time Emmy award–winning producer Mary Ann Zoellner has worked at NBC news for 16 years. She lives in New York City with her husband and two daughters.
Erin Clune is a journalist and humorist whose blogs include Life After NY, The Mischievous Mixologist, and her advice column, So What? Who Cares? Her work has been featured on NPR, The Rumpus, Thought Catalog, and Medium.
Praise For Sh*tty Mom for All Seasons: Half-@ssing It All Year Long…
"Shitty Moms provides just what we all need at the end of our parenting days: a shot of irreverence with a belly laugh chaser. With Shitty Moms 2, we get to make it a double."
"Finally, a book that explains why kids are so hard to feed AND so easy to lose in a crowded store. Hilarious and helpful, it will keep you up at night, laugh-crying at the challenges of modern motherhood. "
"A hilarious and heart-warming book that perfectly captures that delicate balance every mom feels, somewhere between "Parenting! #NailedIt!" and "What the F have I done?!?!"
"If you've never felt like a shitty parent then you're likely delusional. A brilliant and hilarious guide to make you feel better, or at least in great company."
"As a mom your spare time is precious. Spend it laughing with sh*tty moms!"