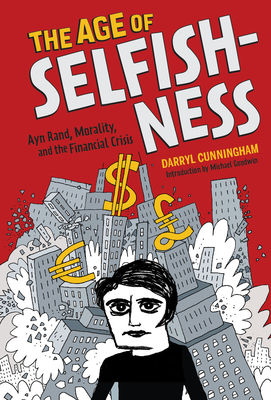 The Age of Selfishness (Hardcover)
Ayn Rand, Morality, and the Financial Crisis
Abrams ComicArts, 9781419715983, 240pp.
Publication Date: March 31, 2015
* Individual store prices may vary.
Description
New York Times bestseller

Tracing the emergence of Ayn Rand's philosophy of objectivism in the 1940s to her present-day influence, Darryl Cunningham's latest work of graphic-nonfiction investigation leads readers to the heart of the global financial crisis of 2008. Cunningham uses Rand's biography to illuminate the policies that led to the economic crash in the U.S. and in Europe, and how her philosophy continues to affect today's politics and policies, starting with her most noted disciple, economist Alan Greenspan (former chairman of the Federal Reserve). Cunningham also shows how right-wing conservatives, libertarians, and the Tea Party movement have co-opted Rand's teachings (and inherent contradictions) to promote personal gain and profit at the expense of the middle class. Tackling the complexities of economics by distilling them down to a series of concepts accessible to all age groups, Cunningham ultimately delivers a devastating analysis of our current economic world.

Praise for Darryl Cunningham:

"It takes other authors whole books to say what Darryl Cunningham can say in a single illustration." —Jon Ronson, author of The Men Who Stare at Goats

"Cunningham's art has clean lines and a continuity that is often graceful, charming, and endearing. He speaks with quiet authority on his subjects, but is careful to cite a whole range of sources and research papers." —Independent

"It's good to see the arguments presented so well, clearly, and concisely . . . Cunningham delivers his message with style, great art, even moments of outright comedy."—Forbidden Planet

About the Author
Darryl Cunningham is a cartoonist, photographer, and sculptor. His previous award-winning graphic nonfiction includes Psychiatric Tales and How to Fake a Moon Landing. He lives in Yorkshire, England.
Michael Goodwin is a writer and editor with a degree in Chinese studies. He has lived in China, India, and now New York City.
Praise For The Age of Selfishness: Ayn Rand, Morality, and the Financial Crisis…
"The Age of Selfishness is a sympathetic but deeply critical biography of Rand and the eventual role of libertarian philosophy in the recent financial crisis."
— New York Times Book Review
"This book is a superb example of how powerful graphic nonfiction can be in taking complex events and making them frighteningly clear."
— Publishers Weekly (starred review)
"There are moments of brilliance here and excellent economic explication."
— Library Journal online
"This is a well-researched, detail-packed book that I'll need to read a few more times to fully digest."
— Boing Boing
"While there have been books about Rand before, none of them have been quite like The Age of Selfishness: Ayn Rand, Morality and the Financial Crisis, a new graphic novel from artist, photographer, and sculptor Darryl Cunningham. The artist and former mental health care worker combines mediums to take a long look at Rand's history, but he goes one step further, looking at how her influence extends into the present day, and even played a role in bringing on the Great Recession and financial crisis."
— Salon
"Both cogent and clear."
— Booklist
"The Age of Selfishness may not have the hard science background of Cunningham's previous books, but the cartoonist seems equally at home challenging and debunking economic strains of thought while courting the controversy that The Age of Selfishness is certain to garner."
— Comic Book Resources