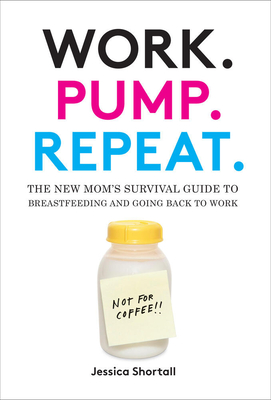 Work. Pump. Repeat. (Hardcover)
The New Mom's Survival Guide to Breastfeeding and Going Back to Work
Abrams Image, 9781419718700, 208pp.
Publication Date: September 8, 2015
Other Editions of This Title:
Compact Disc (10/10/2017)
MP3 CD (10/10/2017)
Compact Disc (10/10/2017)
* Individual store prices may vary.
Description
The practical, relatable, and humorous guide to surviving the difficult, awkward, and rewarding job of being a breastfeeding, working mom.

Meet the frenemy of every working, breastfeeding mother: the breast pump. Many women are beyond "breast is best" and on to figuring out how to make milk while returning to demanding jobs. Work. Pump. Repeat. is the first book to give women what they need to know beyond the noise of the "Mommy Wars" and judgment on breastfeeding choices. Jessica Shortall shares the nitty-gritty basics of surviving the working world as a breastfeeding mom, offering a road map for negotiating the pumping schedule with colleagues, navigating business travel, and problem-solving when forced to pump in less-than-desirable locales. Drawing on the war stories, hacks, and humor of working moms, and on her own stories from her demanding job and travel in developing countries, she gives women moral support for dealing with the stress and guilt that come with juggling working and breastfeeding. As she tells the reader in her witty, inspiring manifesto, "Your worth as a mother is not measured in ounces."

2015 Axiom Business Book Award Winner (Silver) in the category of Women/Minorities
About the Author
Jessica Shortall is a mother of two with a career dedicated to business and doing good. During her breast pump years, Jessica was the director of giving for TOMS Shoes. She holds an MBA from Oxford University.
Praise For Work. Pump. Repeat.: The New Mom's Survival Guide to Breastfeeding and Going Back to Work…
"Debut author Shortall strikes the perfect note . . . and takes a casual, keeping-it-real tone toward everything from 'porn-star boobs' to pumping during conference calls. . . . It's the kind of information an intimate, chatty friend who's done it all could share in a few lunchtimes and a session on the couch—did you know you can sterilize coffee cups in the microwave and pump milk into them?—except that not every mom has those kinds of friends. Having such helpful tips and tricks in print will be a godsend to the back-to-work mom who doesn't have time for everything to go any less than smoothly."
— Publishers Weekly (starred review)
"Work. Pump. Repeat. is an incredible resource for breastfeeding moms going back to work. But this is also a must read for anyone working or living with a pumping mom, even the guys. Jessica's spirit comes through, irresistibly fun and honest you can't help but laugh and be humbled at the same time. Little did I know that Jessica would be unearthing some of life's most valuable lessons for women, managers and employers while she was pumping in cars during our infamous Nepal trip."
— Blake Mycoskie, Founder & Chief Shoe Giver, TOMS
"When you read Jessica Shortall's book, you feel as if your wicked smart and big-hearted friend sat you down to give you the good, the bad and the (often hilarious) reality about pumping at work. Finally a comprehensive book on pumping at work I feel confident about recommending to my clients!"
— Elaine McGhee, founder, www.ThriveMomma.com
"Shortall manages to be both hilarious and informative in the non-condescending manner that can only come from someone who has truly been there . . . the result is a holy grail of information. I described the book to a friend as 'postpartum-pee-inducing funny.' It is a book I not only want to buy for my soon-to-be-working-mom friends, but also for all of my coworkers so that they can just finally understand."
— Liberating Working Moms
"As IBCLCs, we understand the theory behind pumping and the production of breast milk. However, no one can understand the practicalities and the emotional cost better than a mom who has done it! Jessica Shortall's book has hit on an area of need. Based on her own experience, she delivers practical how-tos that other books are missing."
— Cindy Leclerc, RN IBCLC and Jana Stockham, RN IBCLC, co-creators of NuuNest
"I read Work. Pump. Repeat. both as a mother who breastfed and worked, and as an IBCLC. The information in this book is spot-on [regarding] the science behind lactation, written so that stressed working moms will understand it with no jargon to wade through. Ms. Shortall tells it like it is and doesn't sugarcoat the realities of breastfeeding and working. She reminds us that breastfeeding isn't all or nothing and some breastmilk is better than none. Bravo!"
— Robyn Roche-Paull, BSN, RN, IBCLC, author of Breastfeeding in Combat Boots
"A must-read for any mom who plans to pump at work. Jessica Shortall provides a thorough, practical, and relatable guide to the many challenges and rewards of being a pumping mom. She nimbly avoids controversy and judgment and presents all the things a working mom needs to know, even the things she didn't know she needed to know."
— JJ Keith, author of Motherhood Smotherhood
"A solid advice guide that should be on the shelves of any woman who enjoys a career and who wants to return to it while continuing to nurture her child: a guide very highly recommended for its exceptional focus and well-rounded discussion of the realities of the venture."
— D. Donovan, senior e-book reviewer, Midwest Book Review
"I've read a sneak preview edition, and it is Very Very Good—the author describes it as a 'judgment-free zone,' and she's not kidding. And it's absolutely stuffed with practical, detailed advice."
— Breastfeeding Without BS