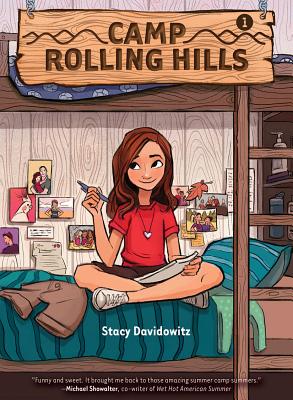 Camp Rolling Hills (#1)
Paperback

* Individual store prices may vary.
Other Editions of This Title:
Paperback (5/10/2016)
Paperback (2/18/2016)
Description
A hilarious and heartfelt series about the particular magic of summer camp—a place where reinvention is possible and friends are like family—from a sparkling debut talent.

Finally, it's summer! Stephanie—aka Slimey—has been counting the days until she can return to her favorite place in the entire world, Camp Rolling Hills. And this year she's especially happy to be back—she'll have eight blissful weeks away from home, where life has been decidedly rocky.
New kid Bobby, on the other hand, is pretty sure he's in for the worst summer of his life. He does not understand his weirdo cabinmates, the group singing, and the unfortunate nicknames (including his: Smelly). But he does understand Slimey, and the two soon fall in crush. This summer might not be so bad after all!
But then a fight sets off an epic, campwide, girls-versus-boys prank war. Bunks are raided! Boxer shorts are stolen! And it's up to Slimey and Smelly to keep the peace.

"Camp Rolling Hills is funny and sweet. It brought me back to those amazing summer camp summers and my very first taste of young adulthood." --Michael Showalter, co-writer of Wet Hot American Summer

"Stacy Davidowitz gets the magic of camp and the wonder of being twelve just right. Camp Rolling Hills is both heartwarming and laugh-out-loud hilarious." --Elissa Brent Weissman, author of Nerd Camp

Praise For Camp Rolling Hills (#1)…
"A light summer read for the middle school set, especially those who enjoy summer camp stories with a touch of puppy love romance."
— School Library Journal
"The book celebrates summer camp as a safe place for children to reinvent themselves, to experiment and be more daring than they might otherwise be. The author's love for camp shines through... it's a strong choice for first-time campers and for those who find camp and its rituals delightful."
— Kirkus
Readers who love camp should feel comfortable with the lively fun, but even noncampers will relate to the theme of friendships renewed. The dollop of romance is the extra marshmallowy goodness cementing the story together. For those looking for a new series to explore, this will more than suffice.
— Booklist
Spot-on combinations of sweet adolescent romance and teenage angst round out an engaging summer read with plenty of energy and originality to keep kids tuning in for more.
— Publishers Weekly
Amulet Paperbacks, 9781419718854, 256pp.
Publication Date: May 10, 2016
About the Author
Stacy Davidowitz is the author of the Camp Rolling Hills series and co-author of Camp Rolling Hills the Musical, which continues to have productions across the country. She is also the author of the Hanazuki series based on Hasbro's YouTube series. When she is not writing, she is teaching creative writing and musical theater in schools, foster care facilities, and juvenile detention centers. She is a proud graduate of Tufts University and Columbia University, where she earned degrees in drama and acting. Fun fact: Growing up, she was in seven productions of Annie. Stacy lives in Manhattan with her husband and twin boys.
Book Videos