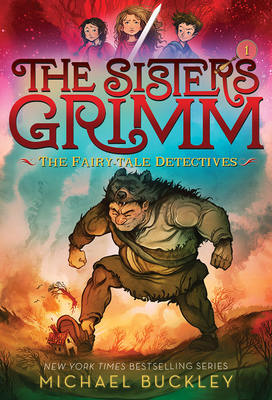 The Fairy-Tale Detectives (The Sisters Grimm #1) (Paperback)
10th Anniversary Edition (Sisters Grimm, The)
Amulet Paperbacks, 9781419720055, 288pp.
Publication Date: May 2, 2017
* Individual store prices may vary.
Description
Fans of fractured fairy tales will be delighted to discover the fantasy, mystery, adventure, and humor in the beloved New York Times bestselling Sisters Grimm series by Michael Buckley, now with new cover art!

Orphaned sisters Sabrina and Daphne are sent to live with their newly discovered grandmother, Relda Grimm, in the strange town of Ferryport Landing. The girls soon learn a family secret: that they are descendants of the famous Brothers Grimm, whose book of fairy tales is actually a history book. When a terrorizing giant goes on a rampage through the town, it's up to the Sisters Grimm to stop him and to solve the mystery of who set the giant loose in the first place. Was it Mayor Charming, formerly Prince Charming, who desperately wants his kingdom back? The Three Not-So-Little Pigs, the shifty town cops? Or one of the many other fairy-tale characters who seem to have it out for the Grimms?

"Kids will love Sabrina and Daphne's adventures as much as I did."
—Sarah Michelle Gellar, star of Buffy the Vampire Slayer and I Know What You Did Last Summer

"Adventure, laughs, and surprises kept me eagerly turning the pages." —R. L. Stine, author of the Goosebumps series

"Why didn't I think of The Sisters Grimm? What a great concept!" —Jane Yolen, award-winning author

"Terrific, head-spinning series . . . Rich in well-set-up surprises and imaginatively tweaked characters, this tongue-in-cheek frolic features both a pair of memorable young sleuths and a madcap plot with plenty of leads into future episodes." —Kirkus Reviews, starred review

"Enormously entertaining, the book takes the fractured fairy-tale genre to new heights." —Time Out New York Kids

"An idea that will make other children's book writers, and tons of aspiring ones, kick themselves for not thinking of it first." —The San Antonio Express-News

"A page-turner that incorporates humor, tension, suspense and a wild cast of characters, readers will have trouble putting this novel down." —The Dallas Morning News

"Quirky and reasonable characters, engaging writing, fresh fairy tale references, and a very real fantasy setting." —The Raleigh News and Observer, "Most Promising New Series"

"The twists and turns of the plot, the clever humor, and the behind-the-scenes glimpses of Everafters we think we know, will appeal to many readers." —Kliatt, starred review
About the Author
Michael Buckley is the author of the successful Sisters Grimm and NERDS series. He is also the author of the Undertow trilogy. He lives in New York City.
Peter Ferguson is an illustrator of picture books, comic books, and novels. He lives in Montreal, Canada.