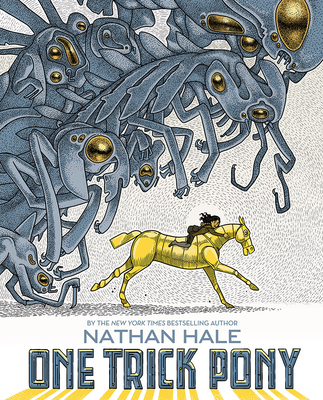 One Trick Pony (Hardcover)
Amulet Books, 9781419721281, 128pp.
Publication Date: March 14, 2017
* Individual store prices may vary.
Description
The aliens have arrived. And they're hungry for electricity. In the Earth of the future, humans are on the run from an alien force—giant blobs who suck up electrical devices wherever they can find them. Strata and her family are part of a caravan of digital rescuers, hoping to keep the memory of civilization alive by saving electronics wherever they can. Many humans have reverted to a pre-electrical age, and others have taken advantage of the invasion to become dangerous bandits and outlaws. When Strata and her brother are separated from the caravan, they must rely on a particularly beautiful and rare robot pony to escape the outlaws and aliens—and defeat the invaders once and for all.

About the Author
Nathan Hale is the #1 New York Times bestselling author and illustrator of the Nathan Hale's Hazardous Tales series. He also wrote and illustrated the graphic novels One Trick Pony and Apocalypse Taco. Nathan lives in Utah. Learn more at nathanhaleauthor.com.
Praise For One Trick Pony…
"Hale imbues his latest with pathos, action, and perfectly timed moments of comedy, but it's the imaginative landscape, spot-on visual pacing, and confident line work that make this adventure tale really zing."
— Booklist
"The aliens themselves are visu-ally exceptional—huge, gluttonous, and oozing privilege in both their actions and their physical presentations."
— Bulletin of the Center for Children's Books
"Set in a land that blends Stone Age elements and highly advanced technology, this graphic novel adventure features the same mix of humor and derring-do that makes Hale's "Hazardous Tales" so popular."
— School Library Journal
"Hale blends adventure, aliens, an apocalyptic future, and folklore into an easy-to-read stand-alone."
— Kirkus
" The story combines an exciting science fiction plot with down-to-earth teenage characters...The real allure to the work is the use of different kinds of lines used to build textures, provide atmosphere, and portray characters."
— School Library Connection
"With an engaging, racially diverse cast this high-stakes epic adventure should have wide appeal...Hale shepherds this complex narrative with the same sure hand as his graphic novel series of real stories from history."
— Horn Book Magazine
"Hale's illustrations are textured and visually move the story forward, while his original storyline effortlessly combines aliens, adventure, and apocalyptic fun."
— VOYA
"While beautifully concise, it still manages to squeeze in loads of suspense, chills (though nothing too nightmare-inducing), action and entertaining character dynamics — all within a refreshingly original take on post-apocalyptic hellscapes."
— New York Times Book Review