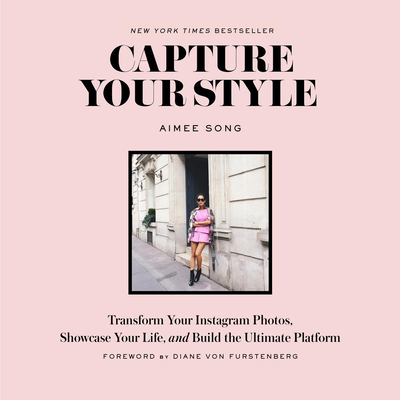 Capture Your Style (Paperback)
Transform Your Instagram Photos, Showcase Your Life, and Build the Ultimate Platform
Harry N. Abrams, 9781419722158, 208pp.
Publication Date: September 20, 2016
* Individual store prices may vary.
About the Author
Aimee Song is the blogger behind Song of Style and the author of the New York Times bestselling Capture Your Style (Abrams Image, 2016). She is a sought-after consultant and has collaborated with such luxury brands as Michael Kors, Diane von Furstenberg, Tiffany & Co., and many others. She frequently appears on national television spots for Cover Girl, E!, MTV, and more.
Praise For Capture Your Style: Transform Your Instagram Photos, Showcase Your Life, and Build the Ultimate Platform…
"Aimee's Instagram is impeccable and has made her a star; now she's taking it to the next level by giving us all of her secrets in one book."
— Garance Doré, author of New York Times bestseller Love Style Life
"Engaging, informative, practical, and fun, this book is a must for any millennial hoping to take the digital world by storm."
— Diane von Furstenberg, designer
"Aimee has an incredible ability to capture simple, everyday moments and vault them to next-level chic. It's amazing that we now have a guide to her filter-genius ways. #goals."
— Shay Mitchell, actress, Pretty Little Liars
"This beautiful book is a must-buy if you're interested in optimizing your content, no matter if you're just starting out or already have countless followers. Aimee does an incredible job of pulling back the curtain on how to build a top Instagram brand, and this engaging, practical guide will help take your imagery, strategy, and skills to the next level."
— Hillary Kerr and Katherine Power, founders of Clique Media Group (Who What Wear)
"An absolutely brilliant read and a smart analysis of the dynamics behind the crazy world of Instagram. Aimee will help you make your IG account fabulous while staying true to yourself."
— Chiara Ferragni, fashion influencer, creative director of CF, and model
"Finally! Aimee has written the first book to open doors on Instagram, and has given us all the opportunity to tap into her wildly creative techniques for taking incredible photos and curating a beautiful life."
— Rebecca Minkoff, designer
"I have always admired Aimee's style, and this book is such a beautiful reflection of who she is, perfect for anyone looking for inspiration."
— Amanda Steele, actress, model, and Influencer
"In the digital age, everyone is a photographer, but Aimee Song stands out for her unique eye and the genuine glimpses into her life. Her practical tips on building the ultimate Instagram feed will be helpful to newbies and experts alike."
— Imran Amed, Founder of The Business of Fashion