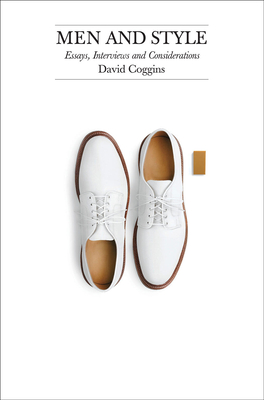 Men and Style
Essays, Interviews and Considerations
Hardcover

* Individual store prices may vary.
Description
New York Times Bestseller

Men and Style reaches beyond standard "what to wear" advice: It is equal parts style guide and intriguing conversation about the masculine identity within the world of fashion. David Coggins explores the history of men's style and learns from some of the most notable tastemakers in the industry and beyond. Its essays and interviews discuss the lessons men learned from their fathers, the mistakes they made as young men, and how they emerged to become better men. Some of the most dapper men in the world discuss bad mustaches, misguided cologne choices, and unfortunate prom tuxedos. All the men here have arrived at a place in the world and have a keen understanding about how they fit in it. Men and Style celebrates singular men who've lived well and can tell us about how they earned their worldview. They're smart enough to absorb the wisdom that's hidden in the world, and even smarter to wear that wisdom lightly.
Praise For Men and Style: Essays, Interviews and Considerations…
"David Coggins' new book, Men and Style is, as he writes in the introduction, all about "what men wear and why" — and more."

— The Chicago Tribune
"If you like wearing clothes, and also reading about clothes, then you should know David Coggins"

— Esquire.com
"Men and Style: Essays, Interviews and Considerations is a love letter to men's fashion by the style expert David Coggins. It weaves together the author's style-related reminiscences and his interviews with fashion experts (including The Times's Guy Trebay)."

— The New York Times
"[Men and Style] feels like an invitation into a conversation filled with cool guys, who just happen to be talking about style. It's a safe space where men discuss not only their style successes, but also their failures and eccentricities. The result is that a reader feels at ease admitting his own wins, losses, and draws both to himself and those around him. More importantly, it's a fantastically entertaining read."

— Playboy.com
Abrams, 9781419722325, 272pp.
Publication Date: October 11, 2016
About the Author
David Coggins is the author of the New York Times bestseller Men and Style. He has written about style, design, and manners for numerous publications, including Esquire and the Wall Street Journal. He is a contributing editor at Condé Nast Traveler and lives in New York City.