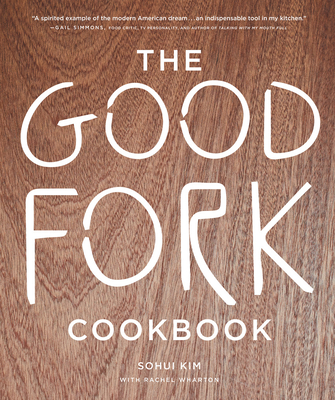 Good Fork Cookbook (Hardcover)
Harry N. Abrams, 9781419722332, 224pp.
Publication Date: November 1, 2016
* Individual store prices may vary.
About the Author
Sohui Kim is the chef and co-owner of Insa and The Good Fork in Brooklyn, New York. Rachel Wharton is a James Beard Foundation award-winning journalist and the coauthor of F*ck, That's Delicious and The Good Fork Cookbook, among others. She lives in New York City.
Andrew Knowlton is the deputy editor of Bon Appétit.
Praise For Good Fork Cookbook…
"I believe that deep down inside, every American cook wants to cultivate the delicate touch, thoughtful spirit, and audacious flavors found in Sohui's cooking. Her distinctive style of combining Korean traditions with contemporary American flavors in such a personal way makes her cooking, her restaurants, and now her cookbook a reference point for all that is good in our food world today."
"Just as she has done at her magical Brooklyn restaurant, Sohui Kim has created the most soulful, welcoming book, allowing hungry friends and strangers alike to learn, gather, eat, and celebrate together. The Good Fork Cookbook is at once a story of true love and perseverance, a collection of authentic, imaginative, and tasty recipes, and a spirited example of the modern American dream. The moment I picked it up, I knew it would become an indispensable tool in my kitchen."
"For years, The Good Fork has been an extension of our kitchen, our family room, and our dinner table. It's a place that feels like home to us. And now with this book, you can—at last!—re-create Sohui's incredibly flavorful, soulful, and comforting food in an actual home."
"Sohui Kim's personal geography has inspired an especially tantalizing fusion of Asian and European food ways. Her colorful and intriguing dishes are intricately explained for the home cook with ample information on finding ingredients."
"To share one of Sohui Kim's meals at The Good Fork is to experience the warmth of her affection for foods of all kinds and the heat of her adventurous personality. For a cook, this book is a Where the Wild Things Are romp into the wonderland of Sohui and her carpenter soulmate, Ben. They showed how you can transform a neighborhood with the right combination of food, hard work, and spirit. These stories are great, the recipes even better."
"The Good Fork Cookbook is a wonderful collection of warming recipes and stories perfect for the multicultural way we eat, entertain, and live today. So many of my extended restaurant-family members are highlighted in these pages; opening the book feels like coming home. And you all are invited to share."
"I'm thrilled that Chef Sohui has finally shared her culinary secrets, as well as her story of life as a big-city restaurateur. She brings an elegant, charming sensibility to every recipe she touches, from Korean banchan to buttermilk fried chicken, and all the other dishes that have made The Good Fork (and her backyard parties) the stuff of Brooklyn legend."