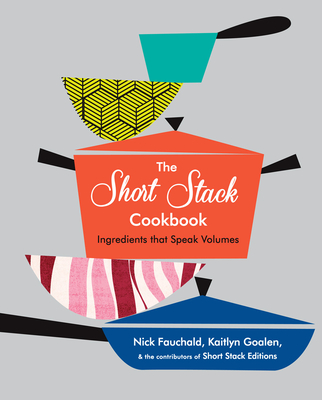 The Short Stack Cookbook (Hardcover)
Ingredients That Speak Volumes
Harry N. Abrams, 9781419722417, 320pp.
Publication Date: October 18, 2016
* Individual store prices may vary.
About the Author
Nick Fauchald is a Brooklyn-based writer and editor and the publisher of Short Stack Editions. Formerly the editor-in-chief of Tasting Table, he was also an editor at Food & Wine, Wine Spectator, and Every Day with Rachael Ray magazines. His writing has been featured in the Best Food Writing series, and he has written several books about cooking and cocktails.
Kaitlyn Goalen is a writer, editor, and cook based in Brooklyn and Raleigh, North Carolina, and cofounder of Short Stack Editions. Previously, she was an editor at Tasting Table, and she has contributed to such publications as Food & Wine, Garden & Gun, the Wall Street Journal, O, The Oprah Magazine, and Gastronomica.
Praise For The Short Stack Cookbook: Ingredients That Speak Volumes…
"Just riffling through the pages of this book is enough to make you race into the kitchen and start cooking. Short Stack is long on smart writing, terrific recipes and inspiring ideas. It's a book that's bound to energize a cook's creative spirit."
— Dorie Greenspan
"The Short Stack Cookbook offers a fresh new approach to instructional cooking. All of the recipes are exciting, creative, and simple to prepare. Professional chefs often start with a singular ingredient – it could range from a childhood memory to a leftover loaf of sourdough in the fridge. This is the first book of its kind to encourage heartfelt cooking of the two with family, friends, and people you have yet to meet."

— Michael Solomonov
"This book has the charm of the covetable small-scale Short Stack Editions, with the same beautiful, playful design and ingredient-respectful recipes. Enchanting and inspiring."

— Nigella Lawson
"There is a spirit, a craftiness to Short Stack-- a celebration of the new, with an embrace of the handy, homemade that anchors us all. It is the ultimate celebration of charmed focus and the perfect place to take your curious kitchen spirit one ingredient at a time."

— Christina Tosi
"The one big Short Stack tome I can really sink my teeth into."

— Celia Sack
"I often start with a single ingredient when cooking and The Short Stack Cookbook provides an abundance of delicious ideas. Plus the bright, clever, graphic photography makes it so much fun."
— Erin Gleeson
"A food publication that is honest-to-goodness about cooking."
"Old-Fashioned Cookbooks for a New Century."
"Holding one of these Short Stack mini-cookbooks feels like being handed something special—a secret note passed in class, a mix tape made just for you, a slim diary found in the back of a garage sale book."
"This is a visually hip, color-coded compilation of ingredient-focused recipes. The emphasis is on ease, and you'll find some of the most accomplished and reliable chefs and cookbook authors among the book's contributors."

"Ingredient-driven recipes from top talents make Short Stack a must have."