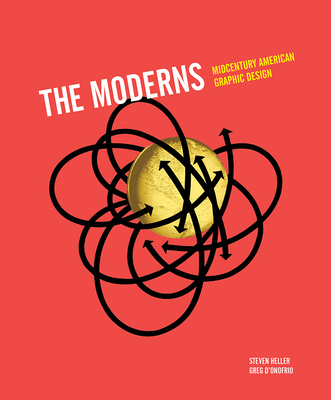 The Moderns (Hardcover)
Midcentury American Graphic Design
Harry N. Abrams, 9781419724015, 336pp.
Publication Date: September 19, 2017
* Individual store prices may vary.
About the Author
Steven Heller, America's leading critic and historian of graphic design, is the author or editor of more than 170 books on design and popular culture, an influential design educator at the School of Visual Arts, and a recipient of the Smithsonian National Design Award.
Greg D'Onofrio is a graphic designer, writer, and researcher, and educator devoted to graphic design history. They both live in New York City.
Praise For The Moderns: Midcentury American Graphic Design…
"As a fan of what is frequently labelled 'mid-century modern', I've hoped for years for a book that would do the graphic design of the era justice and really scratch below the surface. Luckily, The Moderns absolutely doesn't disappoint."
— Theo Inglis, Creative Review
"I am impressed by the editorial structure. The preliminary chapter on émigrés is very informative. Also, the chapter headed 'Homegrown' includes a number of deserving individuals whom I knew nothing of, other than rare chance glimpses of some individual unattributed pieces."
— Professor Ian McLaren, Member of the 1972 Munich Olympic design team
"Among some of the more noteworthy names are Paul Rand and Alexey Brodovitch, however, the book also includes the work of many 'true discoveries', designers whose work although not widely documented, very much contributed to and helped shape this monumental phenomenon."
— Ruby Boddington, It's Nice That
"I love this book so much. It's almost as if you had downloaded my brain and retro-engineered a book where I would just plotz over every single illustration. Thank you, thank you, thank you."
— Michael Bierut, Pentagram Design
"This lavishly illustrated book is a veritable behemoth of midcentury graphic design magnificence. It's a comprehensive resource for students, and a deliciously striking read for anyone interested in this fascinating period of design."
— Emily Gosling, AIGA Eye on Design