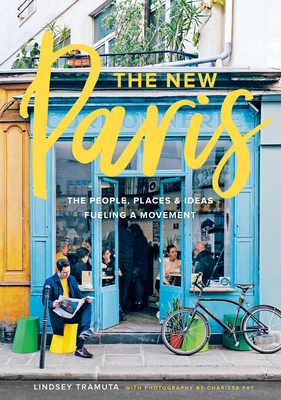 The New Paris
The People, Places & Ideas Fueling a Movement
Hardcover

* Individual store prices may vary.
Other Editions of This Title:
Hardcover (7/7/2020)
Description
The city long-adored for its medieval beauty, old-timey brasseries, and corner cafés has even more to offer today. In the last few years, a flood of new ideas and creative locals has infused a once-static, traditional city with a new open-minded sensibility and energy. Journalist Lindsey Tramuta offers detailed insight into the rapidly evolving worlds of food, wine, pastry, coffee, beer, fashion, and design in the delightful city of Paris. Tramuta puts the spotlight on the new trends and people that are making France's capital a more whimsical, creative, vibrant, and curious place to explore than its classical reputation might suggest. With hundreds of striking photographs that capture this fresh, animated spirit—and a curated directory of Tramuta's favorite places to eat, drink, stay, and shop—The New Paris shows us the storied City of Light as never before.
Praise For The New Paris: The People, Places & Ideas Fueling a Movement…
"The author's vibrant and precise command of English frames this lively collection of insights about cultural change and stories regarding multiple chefs and merchants… Will it succeed? Obviously. After reading only two chapters, I booked a train ticket to Montparnasse station."

— Forbes
"[Tramuta] knows the new Paris better than most Parisians."
— The San Francisco Chronicle
"In her debut book The New Paris, she draws back the curtain on the city's hipper, more happening side—as obsessed with coffee, creativity, and brunch as Brooklyn or Berlin. True to the priorities of Lindsey's adopted homeland, more than half of the book focuses on—what else? Food."

— My Little Paris
"In her new book, Francophile Lindsey Tramuta captures the heart of the modern French city."

— Domino.com
"Whether you live in Paris, know it well, visit rarely, or only dream of the city, Lindsey Tramuta's gorgeous book will make you see Paris in a new way. Here's your chance to meet the people who are setting today's standards on the food scene, changing the way we drink everything—from craft beer to coffee—enjoy pastries, and even shop for our homes. Lindsey's research into the city's revolution is our revelation."
— Dorie Greenspan, award-winning author of Around My French Table and Dorie's Cookies
"As the culinary scene in Paris evolves, a new palate of flavors and styles of eating have emerged, redefining what is "French cuisine." The New Paris documents these changes through the lens of bakers, coffee roasters, ice cream makers, chefs, and even food truck owners. A thoughtful, and delicious, look at how Paris continues to delight and excite the palates of visitors and locals."
— David Lebovitz, author of My Paris Kitchen
"What Lindsey has shown is that Paris is eternal, and what is classic and old can be new again, excite and stimulate us, influence and challenge us, transform us, make us young and revitalized all over again. Bravo!"
— Patricia Wells, author of The Food Lover's Guide to Paris
"Nobody gets Paris like Lindsey Tramuta. This deeply felt, beautifully wrought book is as essential to understanding its new energy as your passport."
— Lauren Collins, author of When in French and staff writer at The New Yorker
"Lindsey Tramuta deftly redirects Paris's iconic light, illuminating its surprising future and the rising stars who will define it."
— Nichole Robertson, author of Paris in Color
"As a native Parisian, I read through Lindsey's book and let out an enthusiastic, 'FINALLY!' Finally, a talented writer who successfully captures the complexity and richness of contemporary Paris, debunking the tired clichés and celebrating the exciting diversity of the city. For anyone looking to discover the real Paris beyond the postcard imagery, this book is a must-have."
— Clotilde Dusoulier, author of The French Market Cookbook and the blog Chocolate and Zucchini
"With inspiring stories, interesting profiles, insider tips, and stunning photos, The New Paris is Lindsey Tramuta's love letter to her home, proving that Paris is no longer a city stuck in the past but once again at the forefront of culture. She will leave you eager to book the next flight out."
— Kristen Beddard, author Bonjour Kale: A Memoir of Paris, Love and Recipes
Abrams, 9781419724039, 272pp.
Publication Date: April 18, 2017
About the Author
Lindsey Tramuta is the author of The New Paris and the blog Lost in Cheeseland. She is a contributor to the New York Times, Condé Nast Traveler, Afar, and Fortune Magazine, where she writes on Paris and French culture. Joann Pai is a food and travel photographer based in Paris. Her work has been featured in Saveur and the New York Times.