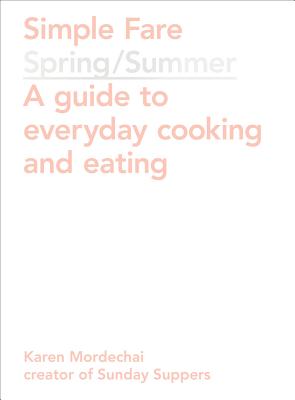 Simple Fare (Paperback)
Spring and Summer
Harry N. Abrams, 9781419724145, 192pp.
Publication Date: April 18, 2017
Other Editions of This Title:
Paperback (9/19/2017)
* Individual store prices may vary.
About the Author
Karen Mordechai, a photographer, recipe developer, and stylist, is the founder of Brooklyn-based Sunday Suppers, an award-winning cooking series and blog. Her work has been widely featured in such publications as the New York Times, Food & Wine, Saveur, and more.
Praise For Simple Fare: Spring and Summer…
"Sunday Suppers is a beautiful meditation on the satisfaction of gathering—good food, friends and family, community—and sharing in the powerful experience of cooking and eating together."
— Melissa Hamilton and Christopher Hirsheimer, authors of Canal House Cooking
"Karen's photography and tasteful style is, as always, something in which to revel and luxuriate."
— The Kitchn
"Since that first communal meal, Sunday Suppers has grown from a humble dinner series into a hugely successful blog and a New York Times-acclaimed cookbook."
— Edible Brooklyn
"Karen Mordechai is a young, hip, and hippie version of Martha Stewart whose blog, Sunday Suppers, caters to the stylish and food-obsessed New Yorker."
— FOOD52
"Photographer and food stylist Karen Mordechai began Sunday Suppers with a simple dinner served in her Williamsburg apartment. Today, it has grown into a beloved communal cooking center hosting dinners and workshops in a bright studio space in Brooklyn."
— Williams Sonoma
"Karen Mordechai offers a gentle reminder to slow down and enjoy preparing simple meals to share with loved ones."
— Nathan Williams, Kinfolk Magazine
"Sunday Suppers features Karen's achingly beautiful photography and...recipes centered around get-togethers...with easy preparations...and simple, elegant styling."
— Goodreads
"Karen is such a force—a talented woman who wears many hats in her business yet does it with such style and ease (and a warm smile)...there is no stopping this lovely woman from bringing good food, joy and beauty into the world."
— Holly Becker, decor8
"Eating well isn't about overdoing it. Assembling the freshest ingredients, preparing them simply but wisely, and serving them on well-chosen plates is all it takes. Consider this oversize cookbook—with its inviting photography and ample white space—to lead by example."
— Vogue.com
"As its name 'Simple Fare' suggests, the book's dishes are minimalist, wholesome and easy to make."
— T: The New York Times Style Magazine
"Karen Mordechai's gorgeous, thoughtful, super useful new book, Simple Fare: Spring/Summer: A Guide to Everyday Cooking and Eating has reignited my love affair with cookbooks."
— InStyle.com
"Keep this beauty on your coffee table. The photos are museum-level gorgeous."
— PureWow