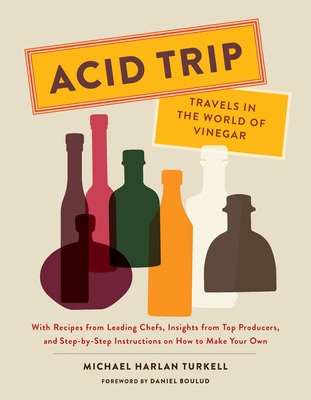 Acid Trip (Hardcover)
Travels in the World of Vinegar: With Recipes from Leading Chefs, Insights from Top Producers, and Step-by-Step Instructions on How to Make Your Own
Harry N. Abrams, 9781419724176, 320pp.
Publication Date: August 8, 2017
* Individual store prices may vary.
About the Author
Michael Harlan Turkell is an award-winning food photographer and cookbook author. Formerly the photo editor of Edible Brooklyn and Edible Manhattan, he has photographed many prominent chefs' cookbooks. He lives in Brooklyn, New York.
Praise For Acid Trip: Travels in the World of Vinegar: With Recipes from Leading Chefs, Insights from Top Producers, and Step-by-Step Instructions on How to Make Your Own…
"In Acid Trip, Michael Harlan Turkell deep-dives into an underrated ingredient: vinegar. He tours the world sampling varieties, tossing in tips for making your own, surprising uses (pies, cocktails), and recipes from chefs like April Bloomfield and Daniel Boulud."
— Real Simple
"There's a lot more to vinegar than you might think, but you shouldn't be intimidated by cooking with the sour stuff. Photographer and cookbook author Michael Harlan Turkell traveled the world researching vinegar traditions, collecting recipes from famed chefs like Daniel Boulud, April Bloomfield, Massimo Bottura, and more along the way."
— Food52
"Michael Harlan Turkell takes us on a trip around the world to learn about vinegar production."
— KCRW's Good Food with Evan Kleinman
"Michael Harlan Turkell, who spent a year traveling around the world researching vinegars…shows us all how a taste of vinegar can reveal a place as well as a sip of fine wine."
— AFAR
"For this comprehensive (and borderline obsessive) treatise on vinegar, Brooklyn-based photographer and writer Michael Harlan Turkell visited Austria, Italy, France, and Japan to report on the pantry staple—and gathered 119 recipes from the likes of Eric Ripert and April Bloomfield."
— Modern Farmer
"Award-winning food photographer and writer Michael Harlan Turkell's new book takes you on a trip so powerful your head will spin (with gustatory delight, that is)."
— Food Republic
"Get Acid Trip and explore Turkell's world of cooking with vinegar. It will broaden your culinary horizons!"
— The Hour
"As any well-seasoned chef will tell you, balancing the acidity in a dish is as important as balancing saltiness or sweetness. With Acid Trip, Michael Harlan Turkell adds to our bookshelves in an astonishingly thorough and gorgeous way, tracing the culinary roots of vinegar from the dawn of cooking to modern cuisine around the globe. With recipes from Turkell and a host of great chefs, this book is destined to become as vital to your kitchen as vinegar is to a chef's pantry."
— J. Kenji López-Alt
"Acid Trip is not just an ebullient love letter to a complex ingredient that the vast majority of us take for granted, it's an epic on a grand scale—a textured patchwork of history, personal narrative, recipes, and imagery that leads us to a deeper appreciation of vinegar in all its forms and uses."
— Amanda Hesser and Merrill Stubbs
"At first glance you might think this is a book about a single mode of flavor. If so, you would be mistaken. This is a book about infinite rivulets of flavor. It's a book about going deeper—deeper into cooking, deeper into history—in the same way that vinegar itself uses time and air and liquid to usher us deeper into deliciousness. Michael Harlan Turkell has delivered an essential volume that deserves a permanent, sauce-spattered place in your kitchen library."
— Jeff Gordinier
"Michael Harlan Turkell's book is one of the most comprehensive, insightful, and delicious tomes of vinegar knowledge I've ever seen. This is the kind of acid trip I can get behind."
— Helen Hollyman
"As the title implies, Acid Trip is guaranteed to blow your mind. A kaleidoscopic guide to the world's finest 'sour wines,' the book brings us profiles of vinegar makers from Kyoto to California that read like fine fiction, and a treasure trove of recipes that look—and taste—totally terrific!"
— Ari Weinzweig