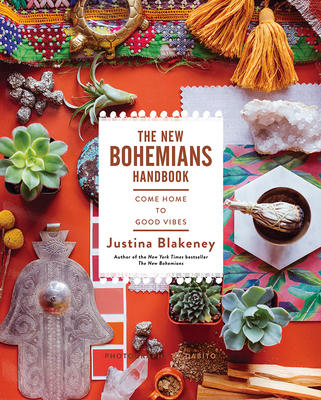 The New Bohemians Handbook
Come Home to Good Vibes
Hardcover

* Individual store prices may vary.
Description
The New Bohemians Handbook guides readers in beautifully simple techniques for adding good vibes and style to living spaces.

With Justina's expert guidance, learn how to rearrange, paint, prop, and plant your way to a home that's fresh and inspiring. Uncover your "spirit environment" and learn how to use color and scent to enhance mood, productivity, and relaxation. Revel in Justina's encouraging advice ("you got this!"), and easily and affordably turn any dwelling into a personal sanctuary. Packed with hundreds of ideas for bringing positive energy to your home, the book features exercises and activities for thinking about rooms in new ways.
Praise For The New Bohemians Handbook: Come Home to Good Vibes…
"Justina's style is so warm and colorful. She makes much more than moments. She makes life feel bright and hopeful. All her plants and pallets and prints are put together in ways that are beyond stylish. It is art. It makes you want to live in her worlds."
— Drew Barrymore

"An indispensable manual to living in a home that's pretty, restful, groovy and 100% you. This is my spirit book! Finally a book that offers specific, helpful ways to make a home feel original, beautiful and, most importantly, like a haven for its homeowner. Plus: crystals!!"
— Sophie Donelson

"Justina is a magical human who really understands how to live well and create a space you love. Not only is this book an excellent read, it also feels like you're having a straight up convo with Justina about how to make your space cooler, original and more inspiring. Very good vibes."
— Jessica Romm Perez

"Justina's just published new book The New Bohemians Handbook: Come Home to Good Vibes is full of ideas for bringing positive energy to your home "
— Washington Post

"With Ms. Blakeney as guide, princes, plumbers and poets alike can readily replicate the charm and ease of these featured interiors—from tiny urban studios to suburban domiciles to rustic retreats."
— Wall Street Journal

"It's as vibrant, rule-breaking and out the box as she showed in her first book, "The New Bohemians," which explored bohemian style across the globe and became a New York Times best-seller. Now, Blakeney has written "The New Bohemians Handbook: Come Home to Good Vibes" (Abrams, $27.50). Blakeney offers tips on how to make bohemian style your own, from rearranging what you have to painting. It's part book, part yoga lesson as Blakeney walks readers through finding clarity, flow, growth and harmony in our homes. In the end, it's about creating a space that reflects you, she writes. "
— The Detroit News

"If plant packed boho spaces are your thing, then you probably already follow in the footsteps of Justina Blakeney, The Jungalow founder whose first book, The New Bohemians, is a staple on design lovers' coffee tables everywhere. Now, her latest tome, published this week, teaches you how to not just decorate your home, but how to make it feel good."
— Apartment Therapy

"Justina Blakeney's bohemian-inspired style is evident page after page. Bursts of color and jungle influences are splashed across the pages, as she encourages readers to think about rooms in a different way and bring positive energy to their homes. Blakeney shares her tips on rearranging, painting and planting with the goal of finding a "spirit environment."
— Editor At Large
Abrams, 9781419724824, 288pp.
Publication Date: October 10, 2017
About the Author
Justina Blakeney is a designer, artist, and New York Times bestselling author of The New Bohemians and The New Bohemians Handbook (together, more than 100,000 copies sold!). Blakeney lives in Los Angeles.