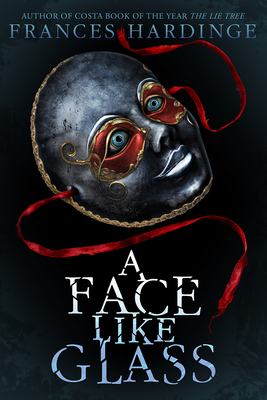 A Face Like Glass (Hardcover)
Harry N. Abrams, 9781419724848, 496pp.
Publication Date: May 9, 2017
Other Editions of This Title:
Paperback (10/9/2018)
MP3 CD (7/18/2017)
* Individual store prices may vary.
About the Author
Frances Hardinge is the winner of the 2015 Costa Book of the Year for The Lie Tree, one of just two young adult novels to win this major UK literary prize. She is the author of several books for young people, including Cuckoo Song, Fly By Night, and A Face Like Glass. She lives in England.

Praise For A Face Like Glass…
**STARRED REVIEW**
"Using beautiful prose, Hardinge builds a richly imagined world that twists as much as the carefully orchestrated plot. Readers will eagerly follow noble Neverfell through its tunnels, marveling at the extraordinary sights and catching their breath at her daring escapades."
— Booklist
**STARRED REVIEW**
"Hardinge excels at wordplay and worldbuilding; witty but not trite, her utterly original setting and chaotic, fidgety protagonist anchor a cracking good story that raises important ideas surrounding the nature of friendship, the value of honesty, and the danger of too much, whether luxury, ambition, power, or desire...like Grandible's cheeses, this may cause visions—or just make your head explode (with delight)."
— Kirkus
**STARRED REVIEW**
"Hardinge is at the top of her game with this entrancing and action-packed adventure. Her voluptuous prose is full of sensory details and wildly imaginative descriptions...A compelling and triumphant follow-up to The Lie Tree for those who love to become immersed in a good story."
— School Library Journal
**STARRED REVIEW**
"Hardinge's characteristically lush and sophisticated language will entrance readers, and she makes wonderful use of her singular setting and wildly eccentric cast to pose haunting questions about reality, artifice, and the things we attempt to conceal."
— Publishers Weekly
**STARRED REVIEW**
"There is wit in the writing style and cleverness the development of this crackling world, and readers will connect with Neverfell, the one girl who can't hide what she is feeling in a world that has no idea what that is like."
— Bulletin of the Center for Children's Books
**STARRED REVIEW**
"Frances Hardinge writes at full throttle, with luscious language, viscerally evocative descriptions and more plot twists and turns than the Minotaur's labyrinth... the wily storyline and gorgeous writing that will leave readers longing for a new Face to express their devotion to the author."
— Shelf Awareness
"Hardinge's imagination here is—as ever—ebullient, lavish, and original. Whether she's anatomizing expression as fashion accessory, describing the
effects of certain wines, or likening human maturation to that of cheeses, she needles into some of our dearest desires and foibles with sharp psychological insight. Her enthusiasm for language play brightens dark Caverna with the sparkle of wit; but most notably, she suggests how fundamental to human interaction our facial expressions are."
— The Horn Book
"To identify any aspect of this book is necessarily to sing its praises. The characters are engrossing, their relationships moving and lovely; Neverfell's innocence and capacity for love and kindness carry her through enormous social upheavals, while the mystery of her lost memory burns hot and furious and hidden inside her. But above anything else what astonished me about A Face Like Glass was its construction, its pure perfect pace, the mechanical gravity of its plot moving through its beat with meticulously crafted finesse... A Face Like Glass is everything like magic."
— Amal El-Mohtar