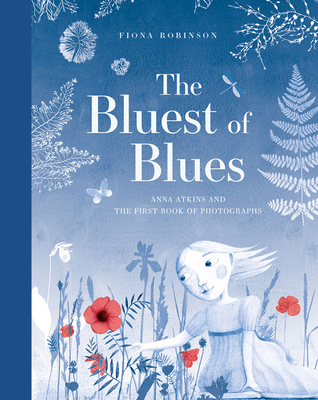 The Bluest of Blues (Hardcover)
Anna Atkins and the First Book of Photographs
Abrams Books for Young Readers, 9781419725517, 48pp.
Publication Date: February 12, 2019
* Individual store prices may vary.
Description
A gorgeous picture book biography of botanist and photographer Anna Atkins--the first person to ever publish a book of photography

After losing her mother very early in life, Anna Atkins (1799–1871) was raised by her loving father. He gave her a scientific education, which was highly unusual for women and girls in the early 19th century. Fascinated with the plant life around her, Anna became a botanist. She recorded all her findings in detailed illustrations and engravings, until the invention of cyanotype photography in 1842. Anna used this new technology in order to catalogue plant specimens—a true marriage of science and art. In 1843, Anna published the book Photographs of British Algae: Cyanotype Impressions with handwritten text and cyanotype photographs. It is considered the first book of photographs ever published. Weaving together histories of women, science, and art, The Bluest of Blues will inspire young readers to embark on their own journeys of discovery and creativity.
About the Author
Fiona Robinson is the author/illustrator of Whale Shines and What Animals Really Like, among other picture books. What Animals Really Like received the 2012 Irma Black Award, and Bank Street named it one of the 2012 Best Children's Books. Her work has been honored by the Royal Academy of Arts.
Praise For The Bluest of Blues: Anna Atkins and the First Book of Photographs…
"An inventive look at a pioneering woman whose intellectual passions culminated in published works of beauty and scientific verisimilitude."
"Detailed and informative . . . A valuable biography of an early female scientist—and a rare portrait of a father-daughter collaboration."
"Robinson's picture book biography is a loving tribute to this remarkable woman whose impressive contributions were recognized long after her passing . . . Robinson's writing has an ethereal quality to it. The beautiful blues of the pencil drawings, watercolor washes, and original cyanotypes from Atkins's collection come together on each page as an immersive experience, creating an array of blue that limns Atkins's world."
"[A] beautifully illustrated biography of Anna Atkins, a nineteenthcentury botanist, artist, and early adopter of this photographic technique."
"The beautiful blue toned illustrations of this book give it a dream-like quality . . . This book will serve as a great introduction to another wonderful woman in the science field."