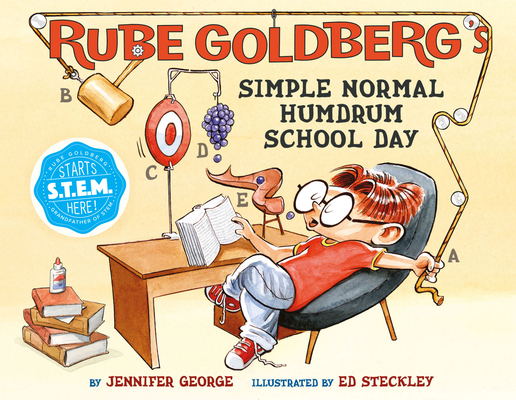 Rube Goldberg's Simple Normal Humdrum School Day (Rube Goldberg's Simple Normal)
Hardcover

* Individual store prices may vary.
Other Editions of This Title:
Hardcover (5/3/2022)
Description
If Rube's inventions are any indication, "normal" means something very different in the Goldberg household. For Rube, up is down, in is out, and the simplest path to accomplishing an everyday task—like brushing his teeth or getting dressed—is a humorously complicated one. Follow Rube as he sets out on a typical school day, overcomplicating each and every step from the time he wakes up in the morning until the time he goes to bed at night.

This book features fourteen inventions, each depicting an interactive sequence whose purpose is to help Rube accomplish mundane daily tasks: a simple way to get ready for school, to make breakfast, to do his homework, and so much more.

Abrams Books for Young Readers, 9781419725586, 40pp.
Publication Date: August 29, 2017
About the Author
Jennifer George, Rube's granddaughter and the chief creative officer of the Rube Goldberg Institute (RGI), has led this effort since 2007 and oversees all aspects of her grandfather's estate. Jennifer has conceived and developed a new generation of cultural events and educational projects, often linking the fields of art, science, and technology through free resources, activities, contests, and curriculum guides available at rubegoldberg.org. She is the author of Rube Goldberg's Simple Normal Humdrum School Day, Rube Goldberg's Simple Normal Definitely Different Day Off,Rube Goldberg and His Amazing Machines, and The Art of Rube Goldberg. She lives in New York City. Vin Vogel is a Brazilian author-illustrator and the creator of A Home for Leo and the Yeti series. He has illustrated over 50 books, including the latest Too Much Slime! by Frances Gilbert; Naughty NinjaTakes a Bath by Todd Tarpley; and Maddi's Fridge by Lois Brandt, which won a number of awards and has been translated into five languages. After living in New York City, he is back in his hometown of Rio de Janeiro, where he lives with two cats and a dog. They are surrounded by many plants, piles of picture books, and some single fin surfboards.

Ed Steckley is an award-winning illustrator whose clients include MAD magazine and innumerable advertising agencies worldwide. He lives in Queens, New York.