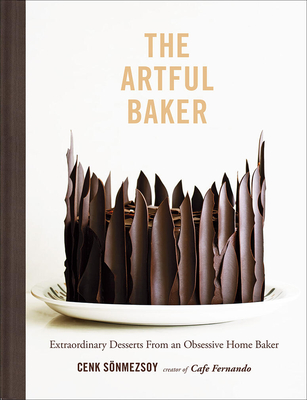 The Artful Baker (Hardcover)
Extraordinary Desserts From an Obsessive Home Baker
Harry N. Abrams, 9781419726491, 384pp.
Publication Date: October 17, 2017
* Individual store prices may vary.
About the Author
Cenk Sönmezsoy is an author, blogger, photographer, and food stylist based in Istanbul. In 2006, he created Café Fernando (cafefernando.com), cited as one of the "World's 50 Best Food Blogs" by the London Times and awarded "Best Culinary Travel Blog," "Best Original Baking and Desserts Recipe," and "Best Piece of Culinary Writing" by Saveur.
Praise For The Artful Baker: Extraordinary Desserts From an Obsessive Home Baker…
"Some books are beautiful, some are useful, and the rare ones are both. The Artful Baker is a rare book from a rare talent. Cenk is a gifted storyteller, an extraordinary pastry chef, and a man with a remarkable eye–his images make you dream."
— Dorie Greenspan
"A beautiful collection of classic and exotic desserts, The Artful Baker will entice you into the kitchen with spectacular photographs and clear instructions. But it's the flavors that will sweetly seduce you. All the ingredients of a superb baking book!"
— David Lebovitz
"The Artful Baker presents clearly written recipes, easy to master techniques, strikingly beautiful presentations, and exquisite flavor – in other words, this book has it all. Cenk has spent years honing his talents in baking, writing, styling, and photography and they have all come together in this most gloriously creative book."
— Nick Malgieri
"In addition to being a skillfull technician of his trade, Cenk is an artist of exquisite taste, and an excellent and informative writer…Cenk is one of the most original authors whose work I have ever encountered."
— Rose Levy Beranbaum
"Sönmezsoy has gone from learning cake baking basics to crafting extraordinary macarons, simits, and tarts, sharing his creations online, and, now, in his latest cookbook, The Artful Baker."
— Food52
"His unbridled passion for dessert shows in his dazzling new cookbook, which he wrote, styled, photographed, and designed himself."
— Departures
"This is a coffee-table book that really should be used. But the first splatter on its pages will make you ache. Bake carefully."
— Star Tribune
"Get ready to become the DaVinci of desserts, even if you're relatively new to baking."
— Leite's Culinaria
"Page after stunning page, photo after stunning photo, decadent recipe after decadent recipe all make for one of the most beautiful baking books ever."
— Eat Your Books
"This gorgeous volume is filled with stories and techniques that will draw you into the kitchen to bake, sift, beat, and churn things like Tahini and Leblebi (double-roasted chickpeas) Swirl Brownies, Pistachio and Matcha Sablés, and Grape and Kefir Ice Cream."
— Katie Parla
"Delving through The Artful Baker, I was enamored with Cenk's unique outlook on all-time favorite desserts. His understanding of several culinary cultures, thoughtful blends of ingredients, and masterful presentations will elevate your home confections to works of art."
— Apollonia Poilâne
"Artistically indulgent and experimental."
— Nik Sharma
"I knew Cenk's book would be worth the long wait, but I didn't know it would be the most stunning baking book ever. His talent, originality, personality and passion have produced an instant classic."
— Janet Fletcher
"I'm completely speechless after reading this book, I want to run to my oven and bake until I drop."
— Yvette von Boven
"There's elegant boldness to Cenk Sönmezsoy's The Artful Baker, with recipes that immediately look comforting, stylish and sound utterly delicious. Partnered with seriously beautiful photography, it's the perfect gift for anyone who loves baking. Even better, keep it for yourself and just dazzle them with brilliance next time you bake."
— Dan Lepard
"I'm astonished by his dedication to getting everything"right" — and not just the recipes."
— Dianne Jacob
"There's no other way to say it, The Artful Baker is a beautifully crafted masterpiece. Cenk Sönmezsoy took years to create this book and it shows. The care that went into each page is evident with every recipe detail and each stunning photograph. This book is a treasure."
— Elise Bauer
"Cenk Sönmezsoy is not only a hugely talented photographer, but a spectacular baker too. This book brings both talents together, and is pure, unfiltered delight."
— Tom Parker Bowles